Bombardier has begun accelerating tests of its latest EcoJet blended-wing-body technology demonstrator as it looks to prove the fuel-saving benefits of the radical new configuration and better understand its flight characteristics.
An unmanned 16%-scale aircraft, the EcoJet design is part of a push by the Canadian airframer to deliver a 50% cut in fuel consumption for a future generation of business jets.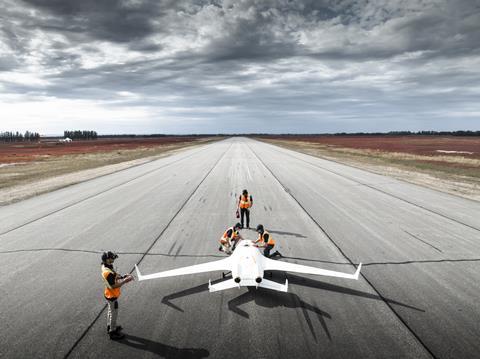 The latest pilotless demonstrator first took to the skies last year, but since the resumption of test activity earlier in 2023 the EcoJet has accumulated 10 flights, Stephen McCullough, senior vice-president of engineering and product development told a pre-NBAA press conference on 16 October.
Bombardier had previously flown a smaller 7%-scale model of the EcoJet and was sufficiently encouraged by the results of that test programme to build the larger demonstrator, which will generate results more representative of a full-size aircraft.
If scaled up, the EcoJet demonstrator's 5.4m (18ft)-long wing would equate to an aircraft with a wingspan of around 35m.
Besides validating the improved aerodynamic performance, Bombardier says the flight tests are needed to improve its understanding of the new control laws required by the "quite unconventional shape".
"What does this aircraft do? One of the advantages in a larger aircraft is that it gives us the ability to fly a bit longer, a bit faster and a bit higher," says McCullough.
"What this does is it gives us real data to go and optimise and configure the next phase of testing… and keeps us focussed on our North Star of getting to the 50% net reduction in emissions."
McCullough says the flight-test programme will last for "at least a couple of years" as the airframer hones the BWB design.
Although it is too early to detail any results from the test activity, he says the process has allowed Bombardier's engineers to rapidly make iterative changes to the configuration and then return the vehicle to flight.
Bombardier's eventual goal is to have a "tool kit" it can offer to engineers that can be applied to any future aircraft design.
Although applicable to the smaller Challenger series, McCullough says the BWB configuration is "more friendly" for an aircraft the size of the 6,000nm (11,100km)-range Global 6000.
Of the total 50% fuel-burn saving targeted for a future aircraft, around 20% will come from the improved aerodynamic performance of the BWB design, a further 20% from a next-generation propulsion system, and 10% from weight saving.
Bombardier remains agnostic on future energy sources, noting that engine manufacturers "are on their own maturity path". Forcing engineers to work around a predetermined propulsion system could have "boxed the team in" and limited its design approach, McCullough says.
Flight testing has been conducted at an undisclosed North American location, Bombardier says.

Dominic Perry is deputy editor of Flight International but also contributes extensively to flightglobal.com. Although specialising in the coverage of the helicopter industry, he has written on most topics in aerospace – be they commercial, defence or business aviation. In addition, there has been an increasing focus on the decarbonisation of the industry and zero-emission flight initiatives.
View full Profile