Bombardier has begun testing a larger version of its EcoJet technology demonstrator having completed an initial trial of a sub-scale version of the blended wing-body concept.
Unveiled at the EBACE show last year, the EcoJet is intended to help develop low-carbon technologies to equip future business jet designs.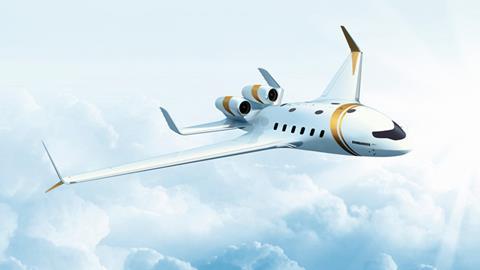 Flights of the 7%-scale model have now been "successfully completed", said Stephen McCullough, senior vice-president of engineering and product development, speaking ahead of the show on 22 May.
Bombardier is "really happy" with the results generated by that test phase, says McCullough, and has now embarked on trials of a larger demonstrator with a 5.4m (18ft) wingspan.
"We are happy with the first flights of the larger unit," he adds. "It's a technology demonstrator – we are at the stage of the programme where information is good, whatever the information is."
A further scaled model could be considered but it will be informed by the results of the current phase "to see if we need to go any larger", says McCullough. A bigger version would also allow the inclusion of "more representative systems", he notes.
In addition, Bombardier has been "extremely pleased" with the level of engagement shown by the wider industry in the project: "We are keen for collaboration."
Research carried out through the EcoJet programme will contribute to a 50% reduction in emissions from business jets, though a combination of aerodynamic and propulsion enhancements.

Dominic Perry is deputy editor of Flight International but also contributes extensively to flightglobal.com. Although specialising in the coverage of the helicopter industry, he has written on most topics in aerospace – be they commercial, defence or business aviation. In addition, there has been an increasing focus on the decarbonisation of the industry and zero-emission flight initiatives.
View full Profile