Bombardier still expects to meet its full-year 2023 aircraft delivery target despite supply chain struggles that have prompted other aerospace manufacturers to curtail delivery expectations.
Executives speaking on 2 November also said the Quebec business jet manufacturer remains on track to hit its goal of delivering 150 aircraft in 2025.
They say Bombardier's efforts to reinforce its supply chain early during the Covid-19 pandemic positioned it to meet the targets.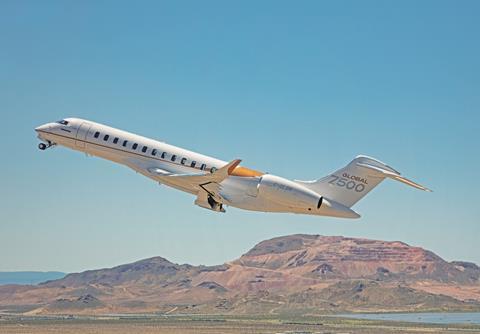 "We remain on track to meet or beat all our of [2023] guided metrics, including aircraft deliveries," Bombardier chief financial officer Bart Demosky says during the company's third-quarter earnings call. "Supply chain is difficult, but we are not using it as an excuse for missing our commitments."
Bombardier entered 2023 aiming to deliver 138 business jets during the year, up from 123 deliveries in 2022. It handed over 31 aircraft to customers in the third quarter (up from 25 in the same period last year), bringing its deliveries to 82 in 2023 through September.
"We grew our deliveries by six aircraft this quarter when the entire industry has been struggling with an exceptionally difficult supply chain," Demosky says. "We have a clear path to more than 56 deliveries" in the fourth quarter.
"For Q4, we pretty much have… everything with us, under the roof, to be able to [deliver] the airplanes," adds chief executive Eric Martel.
He also anticipates Bombardier's supply chain will "be able to support" a bump in aircraft deliveries next year and its goal of 150 deliveries in 2025.
The near-term confidence contrasts sharply with comments made in recent days by executives at several other aerospace companies.
On 25 October, Textron said subsidiary business jet maker Gulfstream will likely miss its target of 145 deliveries in 2023 by 10 to 12 aircraft, citing lingering but improving supply chain struggles. Similarly, on 24 October GE Aerospace said its CFM International joint venture would deliver 1,590-1,647 Leap powerplants this year, not the previously planned 1,704.
This week Boeing executives told investors their company will likely deliver 375-400 737s this year, not the previously forecasted 400-450, though they attributed the shift to quality rather than supply chain problems.
Bombardier's Martel describes his company as facing similar supply chain stresses, saying the issues are "putting a considerable… pressure on our operation".
But he says Bombardier has mitigated much of the fallout and kept its delivery rates on track thanks partly to its work in summer and fall of 2020.
At that time the aerospace industry was broadly contracting amid shrivelling demand. But Bombardier made "very different decisions" by moving its workers "out there in the field, working with our suppliers". It also responded by bringing some production work in house "to make sure our supply chain was reliable", Martel says.