Bombardier executives are pointing to their company's third-quarter financial performance as evidence that a turnaround plan started several years ago is working.
That plan has seen Bombardier divest its commercial aircraft and rail business, leaving it solely focused on producing and selling business jets.
"Our plan is working," chief executive Eric Martel said on 2 November during the company's third-quarter earnings call. "Bombardier had an excellent third quarter" with "exceptional performance on all fronts."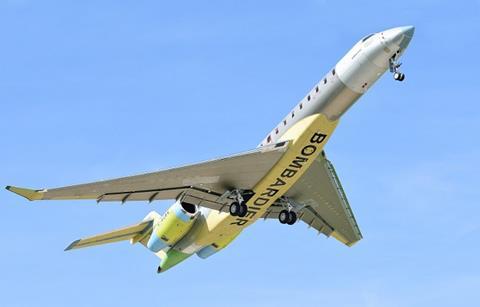 The company did not turn a profit in the third quarter – it actually lost $37 million, though largely due to $240 million in finance expenses.
Excluding those costs and taxes, Bombardier earned $197 million last quarter, up 35% year on year. It also turned cash-flow positive in the period, generating $104 million.
"In 2023, we have reached profitability levels where we have become structurally net-income generative," says Bombardier chief financial officer Bart Demosky. "That was one heck of a quarter we just had… Our business is firing on all cylinders."
Financial analysts expected Bombardier would in the third quarter generate $1.75 billion in revenue, according to financial research company CFRA, and deliver 30 business jets, says a 2 November report from financial firm Desjardins.
Bombardier beat both figures, reporting revenue of $1.86 billion, up 28% in one year, and delivering 31 aircraft.
"It is important to note that [Bombardier] is the only [business jet manufacturer] which delivered more planes than consensus," Desjardins says. "[Bombardier] continues to successfully mitigate supply chain risks and is already focused on securing supply for 2024."
CEO Martel says his company is on track to meet its goal of delivering 138 business jets this year despite supply chain troubles – making it stand out from other aerospace companies that have cut 2023 delivery estimates in recent days.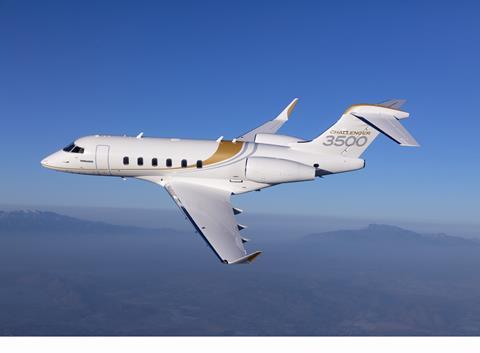 Bombardier's executives describe the third-quarter figures as proof their restructuring is succeeding.
"This company is completely different from when this management team stepped in three years ago," says Demosky. "It is by design… We have built a company that is able to perform in all business environments."
Until recently Bombardier had struggled financially for years, largely a consequence of expenses related to its development of the 110-seat passenger jet once known as CSeries.
Sinking under soaring costs and billions in debt, Bombardier began offloading that programme in 2018 to Airbus, which renamed it the A220. It completed the full divestiture in 2020.
Other programmes also went away. In 2019, Bombardier began ridding itself of its commercial aircraft assets by selling the Dash 8 turboprop programme to Longview Aviation Capital for $298 million in proceeds. In 2020 Bombardier sold its CRJ regional jet programme to Mitsubishi Heavy Industries for $550 million.
Bombardier completed the restructuring in January 2021 by selling its train business to French company Alstom for about $3.6 billion.