Bombardier in 2021 will eliminate 1,600 jobs, concentrate aircraft completions work in Montreal and divest real estate as part of a plan to eliminate hundreds of millions in annual costs and recapture profitability.
News of the changes, which include a plan to end Learjet production in the fourth quarter, came as the company reported losing $568 million in 2020.
Montreal-based Bombardier's revenue during the pandemic-shadowed year declined 13% from 2019, to $6.5 billion, it said on 11 February.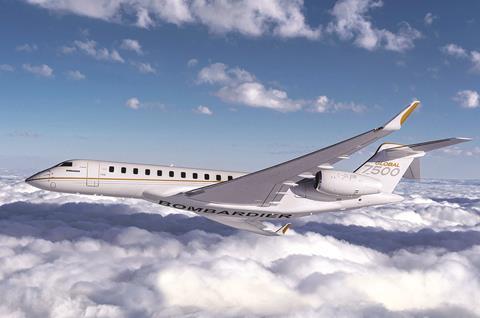 The 1,600 job cuts constitute 10% of Bombardier's workforce at the end of 2020 and will leave the company with about 13,000 employees at the end of 2021.
Bombardier will axe some production positions, but the job losses will primarily affect office staff, including "management positions and white-collar positions", Bombardier chief executive Eric Martel says. "This is mainly offices work."
Geographically, Bombardier expects to shed 700 jobs in the province of Quebec, 100 in Ontario, 250 in Wichita (tied to the Global 5500 programme and the end of Learjet production) and 100 jobs elsewhere in the USA.
The balance of job eliminations will include contract workers and positions vacated by planned retirements.
"These reductions are absolutely necessary for us to rebuild our company while we continue to navigate through the pandemic," says Martel.
In shuttering Learjet production, Bombardier will bring all its aircraft assembly work to Montreal.
The company has not announced any changes to its use of third-party completion partners, which include companies like Peterborough, Ontario-based Flying Colours.
Martel says Bombardier could bring some contracted work back in-house, but he does not elaborate.
Bombardier is also "reviewing options for underutilised hangar and industrial space at our Quebec facilities".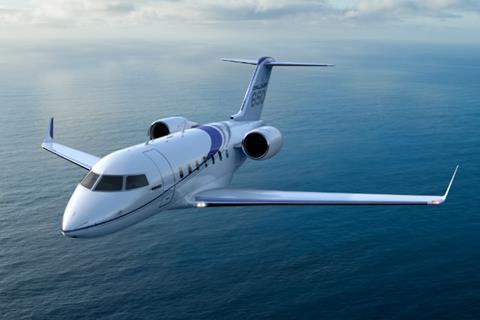 As part of that effort, the company is "looking to reduce [its] footprint" in the Saint-Laurent district of Montreal, where Bombardier produces aerostructures.
"We are sitting right in the middle of the city on a major piece of land which we don't need anymore. We are going to be reducing the footprint of the factory," Martel says, adding that Bombardier is now negotiating to sell parcels of land for undisclosed sums.
Bombardier intends to keep some of Saint-Laurent facility, but will increase productivity there.
It will use funds from the real estate deals to help finance a new Global jet manufacturing site near Toronto, Martel says. The company now builds Globals at its Toronto Downsview site but is moving the operation to Toronto Pearson International airport, with work there to start in 2023.
Bombardier estimates the restructuring will save it $100 million this year and $400 million annually by 2023.
Bombardier's aviation business turned a $937 million profit before interest and taxes in 2020, down 22% year on year, with revenue down 3%, to $5.6 billion. It delivered 114 business aircraft last year, including 59 of its large-cabin Globals, 44 of the mid-size Challengers and 11 Learjets.
By comparison, Bombardier delivered a total of 142 aircraft in 2019.
"We estimate it will likely take a few years for the industry to return to 2019 delivery levels," Martel says. "Clearly, 2020 was one of the most difficult periods [for] our company, for our industry and for all of us individually."
Since the start of 2020, Bombardier has completed three massive divestments: the $275 million sale of its aerostructures business to Spirit AeroSystems, the $550 million sale of the CRJ regional jet programme to Mitsubishi Heavy Industries, and the January sale of its train business to French industrial giant Alstom for proceeds of $3.6 billion. Also, in 2019 it sold the Dash 8 turboprop programme to Longview Aviation Capital for proceeds of $298 million.
"With these transactions behind us we are now entirely focused on designing, building and servicing the world's best business jets," says Martel.
Bombardier ended 2020 with $10.1 billion in long-term debt, including $1.9 billion due in 2021 and $1.7 billion due in 2022. The company starts 2021 with cash and cash equivalents valued at $5.4 billion.
Martel calls 2021 a "transition year" in which Bombardier expects to mature Global 7500 production, achieve "modest revenue growth" and deliver a similar number of jets as in 2020.
It plans no production rate cuts this year and expects in 2021 to earn an adjusted profit – excluding restructuring costs and other one-off items – of more than $100 million.
Story updated on July 26 2021 to note that Bombardier sold the Dash 8 programme for proceeds of $298 million, not $250 million, which was the amount of net proceeds Bombardier expected to receive from the sale after subtracting liabilities, fees and closing adjustments. Bombardier later pegged net proceeds at $285 million.