Leaders in business and general aviation are cautiously optimistic their slice of the industry will return to normal operations after the coronavirus pandemic more quickly than airlines, though economic uncertainty remains a dark and incalculable cloud.
During an online Federal Aviation Administration meeting on 18 June, representatives from across non-commercial aviation, including manufacturers, trade organisations, fixed-base operators and airports, say there are significant opportunities from which the industry can benefit as travel restrictions across the country ease.
However, even though business aviation has returned to about 75% of its pre-coronavirus levels in June, the leaders say it would be a mistake to rejoice too soon.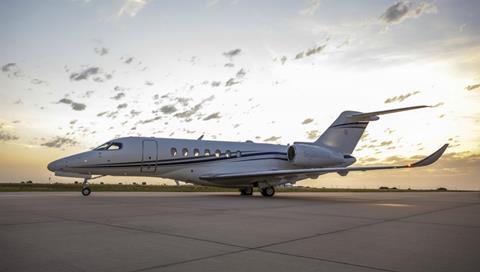 "Overhanging the industry is economic uncertainty," says Ron Draper, chief executive and president of Wichita-based Textron Aviation, the parent of Cessna and Beechcraft. But, he adds, "there are signs for optimism".
"Aviation can get the country back to work, and help people travel in a controlled manner."
Draper says the pandemic affected every aspect of the company, bringing business "from highway speed to full stop". After shuttering its manufacturing facilities for eight weeks and furlouging staff, the company is largely back to normal operations, but with a number of significant changes.
"We had to look at everything from production to maintenance to how to deliver an aircraft, and we have changed a lot of those processes from top to bottom," says Draper. "We wanted to reset all our protocols in the factories about how we will work and change the way we build airplanes."
Fixed-base operators across the country have also had to adjust quickly to a changing business landscape. Since the beginning of the pandemic, Signature Flight Support, a provider of global aviation support services, has seen an increase in inquiries about private jet travel, even as actual volume initially declined 85%, says Tony Lefebvre, Signature's chief operating officer.
The expectation was that a smaller jet would be a safer environment in which to travel than a commercial aircraft, where customers are exposed to other people, and, possibly the virus. The cost of such a journey, however, is prohibitive for many.
That said, in the past weeks business jet traffic has once again risen, primarily for the leisure market.
"We see a pop on the weekends and as we are beginning to see cities reopen, we are starting to see [business] come back," he says. "We are encouraged its getting back a lot quicker than our friends on the commercial side."
"Everything…is pointing the right direction, but how quick the recovery is, is anybody's guess right now," he adds.
Mark Baker, president and chief executive of the pilot lobby group Aircraft Owners and Pilots Association (AOPA), says the post-Covid world could make general aviation more popular as viable means of air transport for both business and leisure travel.
"People are going to be using general aviation as a mode of transportation," he says. "In some cases airlines [are] not going to [certain] cities, in some cases the individual doesn't want to go through the terminal. We could see a permanent shift in interest and look forward to a lot of activity."
Textron's Draper says business jet values have remained stable through the crisis, but that some owners are delaying upgrades on their aircraft.
"With the economic uncertainty we have not seen a lot of requests for major mods," he says. "There's a lot of routine maintenance and small stuff, and people are deferring the big stuff until they see where the economy is going."
Signature will once again be fully staffed by 6 July, Lefebvre says, but the patchwork of local regulations have posed a challenge for a company that aims to create a uniform customer experience across its locations.
"The biggest change we are seeing is how do we deal with the local restrictions on what you should do to operate a business," Lefebvre says. "We have to comply with a lot of new local ordinances."
While the company's employees have been required to wear face coverings from early on and will continue to do so, social distancing rules may make the private jet terminals look a bit different.
For example, the popcorn machine, until now a staple in many Signature facilities across the US, will not likely return soon, he says.