Business aviation leaders insist the industry is taking its environmental responsibilities seriously and is working to cut carbon emissions, even as climate change activists disrupted EBACE's opening day.
"This is a completely unacceptable form of protest," state NBAA chief executive Ed Bolen and EBAA Chairman Juergen Wiese. "We condemn the action, and the threat it has posed to the safety and security of exhibiting companies and EBACE attendees, and others at Geneva airport."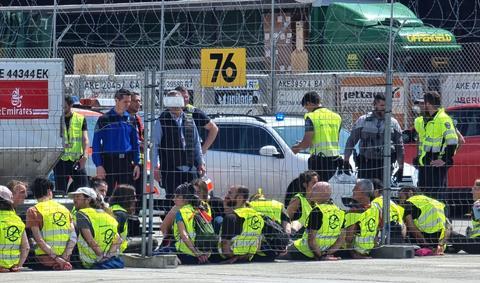 "Moreover, today's disruption ignores the fact that business aviation is deeply committed to climate action. This is an industry that has cut its carbon emissions by 40% over the past 40 years, is continually reducing emissions today, and is collectively focused on achieving net-zero emissions by 2050.
"We as an industry are open to constructive dialogue about the industry's sustainability leadership, and we regret the protestors' unfortunate decision to disregard an opportunity for that dialogue to take place."
But the challenge facing the industry – and its perception in some quarters as the preserve of the ultra-rich – was starkly illustrated as protestors from a coalition of environmental organisations occupied the show's static display.
A claimed 100 activists chained themselves to aircraft stairs and the static park entrance, temporarily halting access to that part of the show site and disrupting commercial flights into Geneva airport.
They appear to have gained access to the exhibit by scaling a fence at the airport.
"I saw people going over the fence, and people running into the field," says Honda Aircraft chief executive Hideto Yamasaki, who witnessed the protestors as they charged the static display.
"The police were reinforced and it took more than an hour for them to control it. It was a big thing."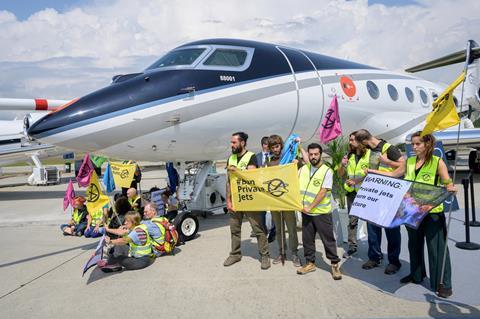 The coalition – including Greenpeace, Stay Grounded and Extinction Rebellion – is calling for a ban on private jets.
Klara Maria Schenk, transport campaigner for Greenpeace's Mobility for All campaign, says: "It is high time for politicians to put a stop to this unjust and excessive pollution and ban private jets."
But Jean Botti, the chief executive of hybrid-electric aircraft developer VoltAero, says attempting to stop people flying will not work.
"Saying 'just don't fly' doesn't make any sense to me – let's try to improve things.
"Aviation is necessary – it has been there for years and will be there for years to come, but we need to work together to resolve the problems with emissions and carbon useage."

Dominic Perry is deputy editor of Flight International but also contributes extensively to flightglobal.com. Although specialising in the coverage of the helicopter industry, he has written on most topics in aerospace – be they commercial, defence or business aviation. In addition, there has been an increasing focus on the decarbonisation of the industry and zero-emission flight initiatives.
View full Profile