The resilience of the business aviation sector throughout the pandemic, with flying hours almost back to 2019 levels, should lead to a recovery in aircraft production levels by early 2022, believes Collins Aerospace.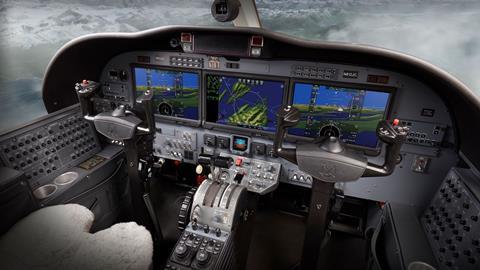 The Raytheon Technologies subsidiary, which is a major supplier of cockpit avionics, cabin equipment and mechanical components to business aircraft manufacturers and operators, expects the segment to rebound much quicker than it did after the financial crisis of 2008-09, when deliveries lagged for several years.
"Back then, [business aviation] had a long journey back relative to other segments. That really isn't happening this time," says Colin Mahoney, president of customer & account management.
Speaking at an online briefing ahead of what would have been the EBACE business aviation expo in Geneva, he attributed the strength of the sector partly to premium airline frequent-flyers switching to business aviation.
"There are those with the appropriate means who would traditionally fly first or business opting for charter or fractionals to minimise interaction with other people. We have seen that dynamic. It is definitely having an impact," he says.
The company also reports that increased trading in the used market is driving sales of cabin and cockpit equipment. "Secondhand sales are strong, and everyone knows the best time for an upgrade is when an aircraft changes hands," says Chuck Barresi, general manager of seating for Collins' interiors business.
Mahoney adds that Raytheon ownership has allowed Collins to continue to invest in research and development throughout the pandemic, despite the decline in commercial aviation. The US defence giant merged with Collins and Pratt & Whitney parent United Technologies in early 2020.
"We are still foot down on the accelerator to bring new products and upgrades to market," he says. "Being part of Raytheon has helped us to do that, thanks to the balance of defence and commercial. It has been a good thing in terms of protecting innovation dollars."