Airbus Corporate Jets has taken orders for another two ACJ TwoTwenty VIP airliners, exclusive completions provider Comlux has disclosed.
The news came as ACJ gave an NBAA debut in Las Vegas to the ACJ TwoTwenty – the model's first appearance at the show since the its launch in October 2020.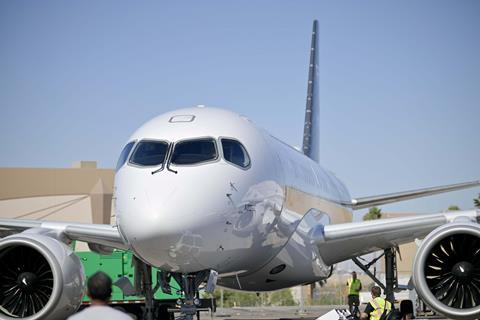 Outfitting of the jets – ordered by two separate clients – will take place at Comlux Completion's facility in Indianapolis, Indiana.
Under its deal with Airbus, Comlux is the exclusive completions partner for the first 15 ACJ TwoTwentys, which are based on the A220 narrowbody airliner.
Earlier this year, it delivered the first example to Dubai hotels and resorts operator Five, which is flown on its behalf by Comlux Aviation.
A second aircraft is set to be handed over to an undisclosed customer in February 2023, while the third will be delivered to Comlux in the coming days direct from Airbus's A220 production line in Mirabel, Canada.
Christophe Pelet, head of Comlux transactions says: "We are proud to count these two new TwoTwenty orders, days before our US cabin completion facility receives its third ACJ TwoTwenty directly from Airbus Canada."
Based on the A220-100 airliner, ACJ argues that the modified twinjet is creating a new market segment – what it calls the "Xtra Large Bizjet".
It claims the ACJ TwoTwenty offers more floor space – allowing a six-zone cabin – and better operating economics and maintenance costs than traditional ultra-long-range business jets.
"The ACJ TwoTwenty is set to become a game-changer in the business aviation market," says Sean McGeough, vice-president commercial ACJ for North America.
"It offers a unique combination of unmatched cabin space, intercontinental range, state-of-the-art amenities, and competitive pricing."
Powered by twin Pratt & Whitney PW1500G engines, the ACJ TwoTwenty benefits from the global maintenance and parts support network in place for the commercial A220 family.

Dominic Perry is deputy editor of Flight International but also contributes extensively to flightglobal.com. Although specialising in the coverage of the helicopter industry, he has written on most topics in aerospace – be they commercial, defence or business aviation. In addition, there has been an increasing focus on the decarbonisation of the industry and zero-emission flight initiatives.
View full Profile