Phoenix-based US operator goes the distance returning citizens north of the border
Repatriation flights have been a rare glimmer of life for many business aircraft charter operators during the coronavirus crisis, and they have given one US operator the chance to really test the endurance of one of its HondaJets.
Phoenix-based Cutter Aviation claims it set a new company record for a light jet when it flew a round trip of 2,118nm (3,923km) from its base at Phoenix Sky Harbor airport to Kelowna in British Columbia, Canada in 6h 18min, or 6h 56min of total trip time.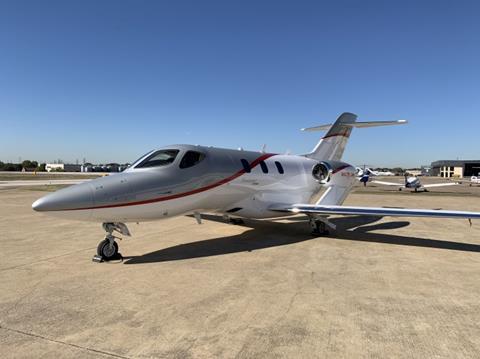 There were two pilots and the passengers were two Canadian citizens who had been working in Arizona and were flying with "lots of bags", says flight department manager Taylor Butterfield. He adds: "It was longer than any flight we'd done with the aircraft, but we really drilled into the flightplan and decided we could do it with the reserves we wanted. The largely empty skies meant the crew were able to stay at 43,000ft, and they landed with over an hour of reserves."
Since the flight, on 13 April, Cutter has seen demand for charter services tick up as essential business travel returns. "We flat-lined from mid-March to mid-April," says Butterfield. "But we've been growing since mid-April."
As well as operating seven HondaJets – five on charter – Cutter also flies a Cessna Citation Latitude, two Pilatus PC-12s and a Bombardier Learjet 60. Additionally, it is a HondaJet dealer, and runs a network of fixed base operations in the Southwest USA.