Dassault Aviation has already racked up sales of its Falcon 10X following the new ultra-long-range twinjet's unveiling in May.
Eric Trappier, the French airframer's chief executive, told a 22 July half-year results briefing that the 7,500nm (13,900km-range) business jet has "received a lot of client interest" and "the first orders have already arrived".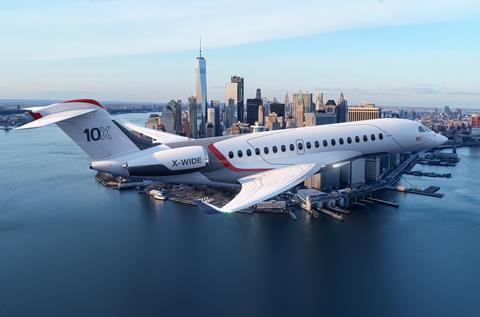 Dassault does not break out its order intake by model, but during the first half it booked commitments for 25 Falcon business jets, a significant rise on the five deals recorded in the same period last year.
"The market is really welcoming this new aircraft," he says, which will be delivered from 2025.
However, Trappier defends Dassault's decision not to match the range offered by the rival Bombardier Global 7500, to which it cedes 200nm.
He says the 7,500nm range covers the vast majority of city pairs likely to be flown by the jet. In addition "we banked on the size of the cabin, we banked on the comfort of the passengers, and these compromises led to this performance".
Trappier sees the market for business jets as showing signs of improvement, particularly in the USA, although there is pressure on pricing.
"It is difficult in terms of prices because after a year of dieting we have to fight to sell our planes one by one."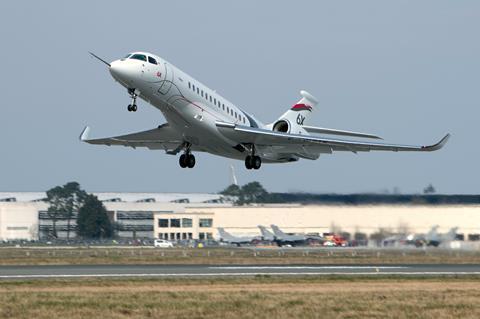 Meanwhile, development of the ultra-wide-cabin Falcon 6X continues. Three prototypes are now in flight test and have amassed 130h across 40 sorties. First flight was on 10 March this year.
Trappier says the company is still on schedule to deliver the first example in late 2022, despite the disruption of the pandemic.
Dassault delivered six Falcon jets in the first-half, down from 16 in the same period a year earlier, driven by low order intake in 2020. The airframer has 53 units in its backlog, an increase of 19 against the first half of 2020.