The French manufacturer's Eric Trappier has switched partners from BAE Systems to Airbus on a future European UCAV while it looks to rebuild its fortunes in corporate aviation with not one but two Falcons in the works
Eric Trappier suspected something was wrong when BAE Systems stopped returning his calls. It was 2017 and, for more than four years, the Dassault Aviation chief executive had been working with his opposite number at the UK defence contractor on an Anglo-French project to develop an unmanned combat air vehicle (UCAV), an effort set in process by the Lancaster House treaties aimed at pooling the talents of Europe's big two defence industries.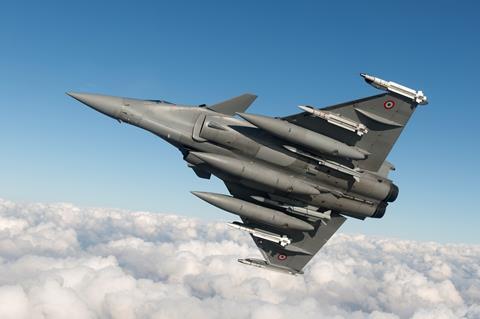 The 2010 agreement was a legacy of then-UK premier David Cameron and French president Nicolas Sarkozy. But Sarkozy's successor-but-one, Emmanuel Macron, was not a fan of the latter day entente cordiale. After the UK's 2016 Brexit vote, the newly-elected Macron and German chancellor Angela Merkel – passionate believers in the European project – wanted to strengthen defence ties across the Rhine instead. Trappier's line to BAE's Farnborough HQ went cold and he was told to switch allegiances.
The outcome was the Future Combat Air System (FCAS), formally launched after much wrangling at the Paris air show in 2019, and finalised earlier this year. While Trappier is "delighted" to be working with new partner Airbus Defence & Space – as prime industrial contractor on the German side – and to have a firm contract, he regrets having to abandon his former ally. "It should have been the UK and France after Lancaster House," he tells FlightGlobal. "It was a French political decision related to Brexit."
Under the new arrangement, Dassault will take the lead on a Next Generation Fighter, with a demonstrator due to fly in 2026. Trappier admits dealing with the Germans will be a different challenge to that of cooperating with UK industry, more because of political cultures than the relationship with Airbus's Bavaria-based defence arm. Like the UK, France's strong executive has considerable autonomy when it comes to defence policy, while Germany's parliamentary and federal structure of checks and balances can mean decisions take much longer.
There have been question marks too over Germany's commitment to a European solution. The country is considering replacing its ageing Panavia Tornados with Boeing F/A-18E/Fs, although ordering more Eurofighter Typhoons seems more likely. Last year, the Lockheed Martin F-35 was excluded from the contest, but the US defence giant continues to promote the fighter. Trappier believes a German decision to buy the F-35 – and participate industrially – would be a showstopper for FCAS. "If [Berlin] put its efforts into F-35, I don't think we could go ahead," he says.
Trappier has also not given up on the possibility of a grand alliance coming together at some point – combining the work done by Dassault and Airbus, and separately by BAE and Leonardo under the now rival Anglo-Italian Tempest project which also has involvement from Sweden's Saab – into a four- or five-nation initiative to design a future European fighter. However, he admits: "Who knows what the future will bring, but it will be difficult in [the medium term] to stop the train that has been set in motion."
While FCAS is Dassault's long-term bet, the Rafale – a fighter Trappier expects to be flying into the second half of the century – remains its lynchpin. After years of trying, Dassault secured its first foreign customers – Egypt and Qatar – in 2015, followed by India, and 47 of 75 aircraft in the backlog are destined for overseas. Dassault delivered 26 Rafales this year, all for export, and expects to follow up with 13 this year. The next French tranche of 28 is set to be handed over between 2022 and 2024, with potential of a fifth batch, to add to the original 180 orders from Paris, to begin delivery in 2027.
Elsewhere, Dassault is pitching the Rafale – which will celebrate its 20th anniversary in French service next year – in fighter competitions in Finland and Switzerland. "We have made new proposals in both and during 2020 we will continue our talks," he says, adding: "We have other prospects but these I will not tell you about."
On the civil side, Dassault is also putting down a serious marker, with a likely response later this year to moves by rivals Bombardier and Gulfstream in the ultra-long-range business jet segment. The Global 7500 and G700 have ranges around 7,500nm (13,900km), about 1,000nm greater than Dassault's flagship 8X. How Dassault will respond remains to be seen. Trappier will only hint that details about the "Future Falcon" – whose existence was confirmed at the National Business Aviation Association convention in October – may become clearer "in the first half of this year".
Dassault's current in-development jet, the 6X – which has a range of 5,500nm and the widest cabin in the market – continues, with a maiden sortie due in the first quarter of next year and entry into service in 2022. Trappier says the company is "very vigilant" with the schedule after the debacle of the 5X – delays by original propulsion provider Safran to deliver its all-new Silvercrest engine prompted Dassault to cancel the programme and replace it with the Pratt & Whitney Canada PW812D-powered 6X.
Trappier reckons that axing the 5X – which had been set to enter service in late 2017 – set Dassault back about four years, losing it precious orders at a time when demand for large business jets was robust. "We are suffering," he says. "We lost what we had in the book for the 5X and would have got more orders after [entry into service in] 2017. For now, we are just focused on being on time with 2022."
Dassault needs a boost to its orderbook, with its Falcon backlog at 53 at the end of December and the company forecasting 40 deliveries this year. This is the same number as it took orders for and shipped in 2019, but five fewer than its start-of-year prediction for deliveries. However, Trappier remains upbeat, despite concerns about the effect of the coronavirus outbreak and other factors on the global economy. "I am pretty confident we can get to 40," he says.
In addition, everything is "going according to plan" on the 6X, he says, with tests on the PW812D – on a Boeing 747 testbed – complete, and assembly of the first aircraft under way. Although they are 20th century aircraft, the rest of the range – with the 2000LXS/S still popular and the larger 900LX available for those who want three engines – remains "very competitive", he insists.
Trappier, who stepped up to become Dassault chief executive on the retirement of veteran industrialist Charles Edelstenne in 2013, says he was "not in the shoes" of the senior management group who took the decision to go with the Safran engine in 2009. "On paper, it was a perfect fit for the 5X," he says. "We knew it was a risk, but we trusted Safran. That was a mistake." Having to abandon the engine and adapt the 5X to the 6X was "really a trauma for me and the teams", he says, but "we were lucky to discover the engine from Pratt & Whitney Canada".
Trappier maintains that he feels "lucky, because our shareholders backed development of the two aircraft at the same time", something that has involved considerable investment at a time when business aviation revenues have been tight. "That is the advantage of being a family company," he says, referring to the descendants of the late Serge Dassault, who hold more than three-quarters of the voting rights in Dassault Aviation through the Group Industriel Marcel Dassault parent organisation that also controls design software house Dassault Systemes.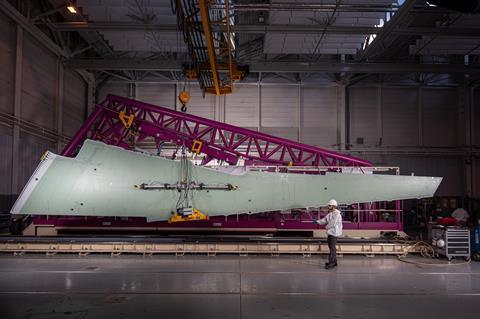 Despite the challenges, the business remains in robust shape, taking €5.7 billion ($6.4 billion) in orders in 2019, compared with €5 billion the previous year, and notching €7.3 billion in revenues as opposed to €5.1 billion in 2018. Self-funded research and development spend also increased from €392 million in 2018 to €527 million, much of that accounted for by investment in the Future Falcon project. Operating margins sank from 13.2% to 10.4%, but Trappier says around 4% of the 2018 figure was accounted for by a one-off indemnity paid by Safran over the Silvercrest debacle.
Dassault has also been investing in its footprint in India – part of an offset requirement of the Rafale deal – including a production hangar in Nagpur to make engine doors for the Rafale as well as assemble Falcon 2000s. Trappier also expects to develop "an active supply chain" in the country. Additionally, the company has been improving its Falcon support network, last year acquiring ExecuJet's global MRO network from owner Luxaviation, alongside TAG Aviation's European facilities.
Trappier says the move to bring more of the aftersales service in-house was partly a response to what competitors have been doing, particularly Gulfstream, whose parent General Dynamics owns Jet Aviation. "Some of our MRO was being done by Jet, so we felt we had to do something and get a better network worldwide to understand the market. It does not mean that we won't still use approved third-party centres, including Jet, but this will be better for us," he says. "Our mistake is that we should have done it before."
Trappier's list of potential market headwinds range from the effect of coronavirus on business travel to the impact of Brexit on doing trade in Europe. It includes trade disputes and environmental protests. However, reflecting on the troubles of one of his competitors, being forced to divest most of its business to remain as a purely business jet manufacturer, he notes: "I would rather be doing this job than being chief executive of Bombardier."