Dassault Aviation now has three Falcon 6X prototypes flying, with the latest example on 24 June having performed its maiden sortie from the airframer's Merignac site near Bordeaux.
Fitted with a complete interior, MSN003 (F-WAVE) made a 2h hop from Merignac to Dassault's Istres flight-test centre near Marseille, in the process climbing to 40,000ft and travelling at Mach 0.85.
Certification for the ultra-widebody business jet is scheduled for 2022. So far, the programme has accumulated 130 flight hours with two prototypes at a rate of two to three sorties each week since Falcon 6X's maiden sortie on 10 March.
Dassault says that thanks to the rapid pace of testing, envelope expansion work is nearly complete.
"This latest flight is yet another sign of the smooth progress we have been making with the 6X test programme," says Eric Trappier, Dassault chief executive.
"We have been consistently impressed with the flight performance and handling of the 6X and the reliability of aircraft systems."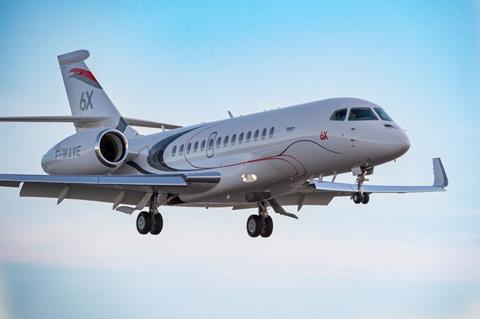 A fourth aircraft will also be equipped with a full cabin interior, currently being installed in Merignac. It will conduct a two-month-long flight campaign to ensure maturity at service entry.
Serial aircraft are already on the production line, with the 10th example to begin final assembly at the beginning of July.