Dassault Aviation has revealed the Falcon 10X, its largest ever business aircraft, as the French airframer looks to take on Bombardier and Gulfstream in the market for ultra-long-range jets.
Although the Falcon 10X, which is scheduled to arrive in 2025, will be the last to the party – Bombardier's Global 7500 entered service in 2018 and the Gulfstream G700 will follow in late 2022 – Dassault believes a focus on innovation, plus the widest cabin in the category, will give it a leg up on its rivals.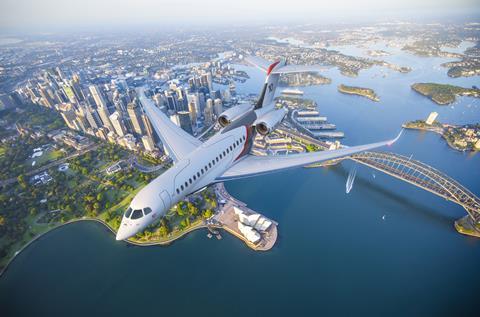 Dassault's decision to enter the new sector was based on customer demand, who "asked us to have an ultra-long-range Falcon", says chief executive Eric Trappier. "It will put us at the top of business jets."
"We already have two contenders [in the segment] and they are good contenders. What we wanted to do was not to do the same thing, and provide added value compared to the others," says Carlos Brana, executive vice-president of civil aircraft at Dassault.
Powered by twin Rolls-Royce Pearl 10X engines, the $75 million Falcon 10X will cruise at Mach 0.85, have a top speed of M0.925, and be able to access airports with steep approaches like London City.
Range is pegged at 7,500nm (13,900km) – matching that of the G700, but 200nm short of the Global 7500 – with a cabin designed for eight passengers in addition to four crew.
To achieve a combination of efficiency at high speed and predictable low-speed handling to allow access to short runways, the Falcon 10X has a high-aspect-ratio, 33.6m (110ft)-wide carbonfibre wing – almost 8m wider than that of the Falcon 6X – which also features retractable high-lift devices.
Composite was chosen to avoid a weight penalty from the larger structure but it is the first time Dassault has employed a carbonfibre wing on a production business jet. Such a design is "a challenge and it is also not because it is something we have already done on the Rafale [fighter]," says Brana.
Measuring 33.4m from nose to tail, the Falcon 10X is significantly longer than the next biggest aircraft in Dassault's range, the 25.6m-long Falcon 6X. Its cabin is also wider and taller than that of the Falcon 6X: 2.77m wide by 2.03m high, against respective dimensions of 2.58m and 1.98m. Combined with a 16m-long cabin, that translates to an impressive cabin volume of 78.7cb m (2,780cb ft).
In comparison, the Global 7500's cabin is 2.44m wide by 1.88m high and 16.6m long, while the G700 measures 2.49m by 1.91m and 17.35m long.
How ultra-long-range rivals compare
Dassault Falcon 10X
Bombardier Global 7500
Gulfstream G700
Source: Manufacturers
Range
7,500nm
7,700nm
7,500nm
Cabin height
2.03m
1.88m
1.91m
Cabin width
2.77m
2.44m
2.49m
Cabin length
16m
16.59m
17.35m
Wingspan
33.6m
31.7m
31.39m
Length
33.4m
33.8m
33.48m
Engine
2x Rolls-Royce Pearl 10X
2x GE Aviation Passport
2x Rolls-Royce Pearl 700
Thrust
>18,000lb-thrust
18,920lb-thrust
18,250lb-thrust
Conscious that at maximum range, both passengers and crew will be subject to flights of 15h or more, Dassault felt it needed to "rethink and reshape" the experience.
Customers should be able to enjoy the flight so "they can exit the aircraft and start their working day as if nothing had happened", says Brana. Workload for the pilots is alleviated so they can "be alert at critical times of the flight".
Indeed, while the cabin has been designed from the ground up to maximise passenger comfort and convenience, arguably more significant innovation has been lavished on the flightdeck.
Here, a single throttle lever – which Dassault calls the Smart Throttle – controls both engines, with the reverse thrust and airbrake controls also integrated into the lever. This offers "vastly simplified thrust management", says chief pilot Philippe Duchateau.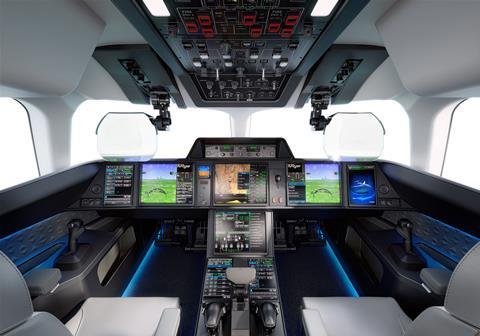 A new digital flight control system (DFCS) derived from the Rafale jet, is also added, combined with fly-by-wire sidesticks which feature flightpath stability, removing the need to trim the aircraft, an action which Duchateau describes as "something from the past".
The DFCS will additionally be able to control the engines, for instance increasing thrust as the sidestick is pulled back.
An upset recovery function also features – activated via a button on the main console – which will return the jet to straight and level flight. That system, another carry-over from the Rafale, has already been trialled on the company's Falcon 7X testbed, with "great success", says Duchateau.
A simplified digital checklist is incorporated, while enhancements have been made to the head-up display-based FalconEye combined vision system, enabling its use as "primary instrumentation", he says. The overhead panel is slimmed down, with many switches now "virtualised" on touchscreen displays.
Advanced autothrottle and autopilot modes have been added, such as 'soft go-around', which will "avoid smashing everyone back into their seats". Others include emergency descent mode, reduced take-off thrust and noise abatement modes.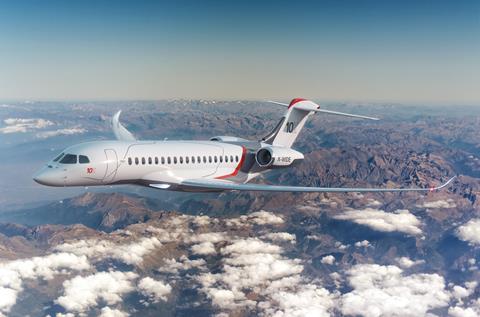 Although current regulations call for three pilots for a 15h flight, Brana notes that "this aircraft is designed to fly not just today but for the next 40 or 50 years" and therefore anticipates possible future regulatory changes.
He says it is "not absurd" to think that with higher levels of automation on the twinjet "that the regulation could be changed to allow two pilots to fly for 15h".
Improvements in technology are "leading us to a significant workload reduction," says Duchateau, which "will allow us to postulate for one pilot [during cruise]". Meanwhile, the other would be able to take a "fortifying rest" in the fully reclinable pilot seat.
"This will nicely contribute to fatigue management and being in best shape for approach and landing. [Technology] will make it possible for one pilot to manage all the tasks associated with cruise."
Initial dialogue on the topic has begun with the European Union Aviation Safety Agency, he adds.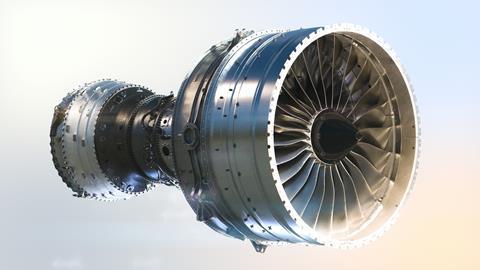 Meanwhile, for Rolls-Royce, winning a position on the Falcon 10X – its first time on a Dassault business jet – is the third in a series of victories for the Pearl family of engines.
The Pearl 15 was initially selected by Bombardier for the Global 5500 and 6500, followed by the Pearl 700 for the G700.
Trappier says: "We strongly believe that Rolls-Royce has the right competencies and the right technologies needed to design this engine for us."
Dr Dirk Geisinger, chairman of business aviation at R-R Deutschland, says the company is "honoured" that the Pearl 10X has been chosen to power the Falcon 10X. It will, he says, offer "a market-leading combination of power and efficiency".
The selection also serves to "reinforce our position as the leading engine supplier to the business jet market".
Based on the Advance2 core, Pearl-family engines offer a 5% reduction in specific fuel consumption over previous-generation engines. In addition, the powerplants are capable of operating on 100% sustainable aviation fuel.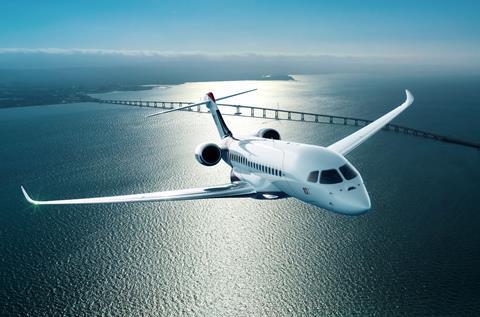 Dassault describes the engine as the "largest and most powerful" Pearl variant, which R-R indicates is rated at more than 18,000lb-thrust (80kN). Comparatively, the smaller Pearl 700 offers 18,250lb-thrust at take-off. The propulsion specialist does not offer a precise firgure for the Pearl 10X, simply noting that it is "more powerful" than the other variants and sits in the 18,000-20,000lb-thrust range.
At the front of the engine sits a titanium fan blisk, leading to a 10-stage high-pressure compressor, low-emission combustor, two-stage shroudless high-pressure turbine and four-stage low-pressure turbine.
An ultra-slimline nacelle will be provided by Spirit AeroSystems, creating streamlined laminar flow for enhanced aircraft performance. Improved acoustic treatment will also ensure quiet operation.
More than 1,000 test cycles and over 500 test hours have been accumulated on the Pearl 10X, says Geisinger. The new powerplant will also be the first R-R engine to be flight-tested aboard the manufacturer's newly acquired Boeing 747-400.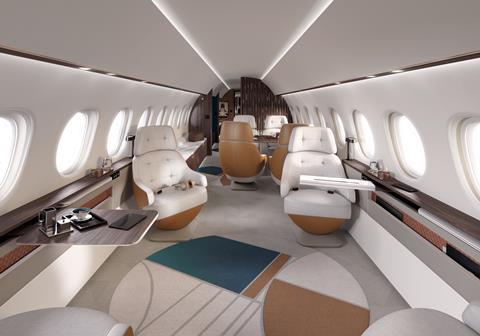 The Falcon 10X is large enough to accommodate four cabin zones of equal length but is endlessly customisable, Dassault says. Space is sufficient for a full queen-size bed or an enlarged master suite with a private stand-up shower.
Pressure altitude in the cabin will be 3,000ft at 41,000ft, while a next-generation filtration system will enhance the overall experience. Light will flood in through 38 windows, which are 50% larger than those on the Falcon 8X.
Cabin systems will be controlled via an app on a mobile device, simplified switches or zonal touchscreens. Minimal hardware was integrated in the cabin to avoid obsolescence issues.