Delta Air Lines and several investment partners are set to own 95% of Wheels Up's stock by providing the struggling private aviation company with $400 million in fresh financial aid.
Wheels Up and the Atlanta-based airline, which already owns a large chunk of Wheels Up stock, disclosed the new financing arrangement on 15 August.
The deal calls for Delta, investment entity CK Opportunities Fund and other unnamed investors to provide $400 million in loans to Wheels Up, which has been bleeding cash following a post-pandemic downturn in demand for private air travel.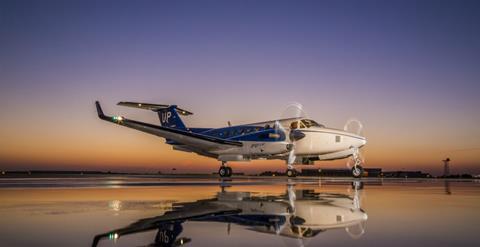 The New York-based company sells memberships that provide customers with access to travel on private aircraft. It manages some 100 aircraft and has access to another 1,200, regulatory filings show.
The "non-binding deal" with Delta and the other investors remains subject to approvals but could close within weeks, the companies say.
The $400 million will include loans of $150 million each from Delta and CK Opportunities, and $100 million from yet-unnamed investors. CK Opportunities is managed by "turnaround" investment firm Knighthead Capital Management and by travel-focused investment company Certares Management, both based in New York.
Separately, Delta has agreed to supply Wheels Up with $100 million in available credit, leaving Wheels Up with access to $500 million in fresh cash.
Knighthead confirms its involvement in the deal but Certares did not immediately respond to a request for comment.
In exchange for the $400 million, Wheels Up plans to issue stock to Delta and the other investors "such that they are expected to own approximately 95% of the company", Wheels Up says.
Neither Delta nor Wheels Up disclose what percent of Wheels Up' stock each investor will ultimately own. Delta's $150 million loan comes to 37.5% of the total $400 million, and Delta already owns 21% of Wheels Up stock, according to Delta regulatory documents.
"The partnership will create new opportunities for Wheels Up to drive strategic, operational and financial improvements for its customers in the months and years ahead," says Delta chief executive Ed Bastian.
"Our continued close work with the Delta team will enable us to further integrate our digital experiences, member benefits and our operations," adds Wheels Up interim CEO Todd Smith. "We are extremely grateful for Delta's support and look forward to welcoming our new partners, including Certares and Knighthead, to the Wheels Up family."
Wheels Up is now mailing notice of the deal to stockholders and intends to issue the stock to the new investors 10 days after the mailing. Wheels Up plans to issue 80% of its stock to the investors without approval from Wheels Up shareholders, it adds, noting it can do so under a New York Stock Exchange "financial distress exception".
News of the financial arrangement comes after a rough period for Wheels Up.
On 14 August, Wheels up disclosed losing $161 million in the second quarter, with revenue during the period sinking 21% year on year to $335 million. The company lost $101 million in the first quarter.
Wheels Up ended June with cash and cash equivalents valued at $152 million, down from $586 million at the end of 2022.
Until recently, the company had been on a rapid-growth tear. In 2020, Delta acquired 27% of Wheels Up as part of a deal that merged Delta's in-house charter business Delta Private Jets (which then operated some 70 aircraft) into Wheels Up.
Wheels Up became a publicly traded company in 2021 through a deal that valued it at $2.1 billion and raised $650 million. At the time, the private aviation industry was surging as the raging Covid-19 pandemic drove wealthy travellers to private aircraft.
But business jet demand has weakened lately, and Wheel Up's plan has recently shown cracks. In May, founding chief executive Kenny Dichter stepped down and Wheels Up said it was overhauling its business to stem financial losses. Changes included concentrating its flying in regions where it is strongest – a change from offering a nationwide US network.
On 8 August, Wheels Up said it had secured $15 million in financing from Delta. The next day, it warned in a securities filing that "absent" its ability to secure more financing "there is substantial doubt about [Wheel Up's] ability to continue as a going concern for any meaningful period of time".