The European Business Aviation Convention & Exhibition (EBACE) has become the latest industry show to fall victim to the pandemic.
In fact, it is the second year running that the annual Geneva-based event, which was to have taken place from 18-20 May, has been cancelled due to Covid-19 uncertainty.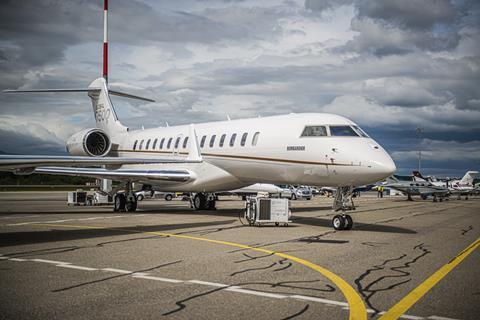 The organisers plan to replace EBACE with a "virtual programme". Its sister US event, the National Business Aviation Association's BACE in October 2020, was also switched to an online format.
The decision marks a blow for an industry that had been weathering the crisis better than the commercial airline sector, with many wealthy private and business travellers continuing to use a mode of transport seen as more discreet and Covid-secure.
There had also been rumours of new aircraft launches this year, including from Dassault.
NBAA president Ed Bolen says the health and wellbeing of attendees is the organisation's "highest priority". His counterpart at the European Business Aviation Association, Athar Husain Khan, maintains that, despite the ramp-up of vaccination programmes, the exhibition industry remains in "uncharted waters".
"We felt that, in May 2021, the safety of our exhibitors and attendees could not be guaranteed in the traditional EBACE format," he says.
Until 2020, EBACE had run annually at Geneva's Palexpo convention centre for 19 years, growing from a small gathering for Europe's business aviation community into a major showcase for the sector, second in size only to BACE.
Several major industry events have already been cancelled during 2021, including June's biennial Paris air show, although Aero India has bucked the trend, going ahead in Bangalore this week.