The business began with a vow to disrupt a staid general aviation market by mass producing an entry-level jet for little more than the price of a piston aircraft.
Now, after more than 20 years of ambitious promises, missed targets, and run-ins with the bankruptcy courts, very-light jet (VLJ) pioneer Eclipse is again under new management, and operators of the Albuquerque-based manufacturer's 280 or so in-service examples hope the turbulence is over.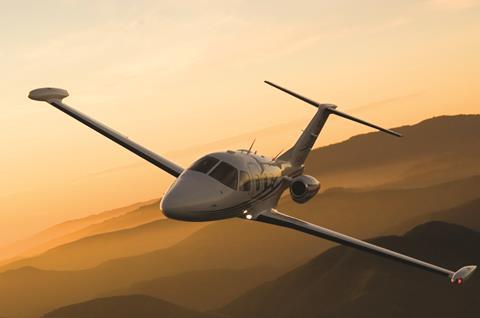 In early December, the assets of Eclipse Aerospace were acquired by AML Global Eclipse, a business backed by Thailand-based British entrepreneur Christopher Harborne, whose portfolio includes the Singapore-based AML Global business aviation fuel agency.
One Aviation, which had taken over Eclipse Aerospace in 2015, had entered Chapter 11 bankruptcy protection three years later. The company – owned by Cirrus co-founder Alan Klapmeier – was finally liquidated earlier this month.
Harborne has promised to keep Eclipse's "intellectual property, human capital and supplier network" intact, although he has not yet indicated whether a production restart is on the cards. One Aviation had been working on a new version of the VLJ, called the EA700, flying a concept in 2017, but did not have sufficient funding to certificate the programme.
AML is the third investor to try to restore Eclipse's fortunes after the original Eclipse Aviation business, led by Silicon Valley veteran Vern Raburn, collapsed in 2008, two years after the certification and entry into service of the Eclipse 500.
Eclipse Aviation's assets were then acquired after a Chapter 7 winding-up procedure by a new entity called Eclipse Aerospace, which seven years later merged with Klapmeier's existing business to form One Aviation.
Operators of the mould-breaking VLJ are optimistic that more than a decade of uncertainty about whether their aircraft will continue to be supported may be over.
"We are in a more stable place than we have been for many years," says Ron Lebel, president of the Eclipse Jet Owners and Pilots Association, who bought his Eclipse 500 new in 2007.
"We were really scrounging for parts for a while, and nobody was telling us anything," he recalls. "At one stage, about 20% of the fleet was OAG [aircraft on ground]."
Harborne, who could not be contacted for this article, said in December that he decided "to act decisively to protect and keep together the essential aspects of the Eclipse aircraft project" as "the alternative would have been a Chapter 7 liquidation which would have been catastrophic for the project, the workforce and the existing fleet".
The entrepreneur, is "generally interested in the airplane", believes Lebel. "You get the feeling that it's a passion project rather than an attempt to squeeze money from it."
He adds: "The goals of the new management seem to be a lot clearer and realistic."
Raburn's original business delivered around 260 Eclipse 500s as part of a strategy to target an emerging air charter taxi market. In the event, the air taxi segment never materialised, and most examples were bought by enthusiast owners. A further 40 or so of an Eclipse 550 variant were produced by Eclipse Aerospace. All but around 15 Eclipses are thought to still be in service, the majority in the USA.
Cary Winter has been credited for helping to keep the Eclipse fleet in the air. The former Eclipse Aerospace head of engineering founded his Chicago-based business, Resurgent Aviation, in 2016, specialising in repairing and producing Eclipse components under US Federal Aviation Administration parts manufacturer approvals system.
The original aircraft, he says, was designed to be a high-utility platform, with owners replacing rather than repairing parts to minimise the time it spent on the ground.
"The reality was that most were owner operators who could not afford to be constantly buying new parts, so we set out to develop repair schemes where we could fix the part at the fraction of the cost," he says. "We figured out that the operating cost of this airplane will determine its future."
Resurgent is now the sole source for equipment such as the on-board computer, battery and autopilot.
Winter welcomes AML's takeover of the Albuquerque facility, even though it means a potential competitor for supplying factory-approved parts.
"It won't really affect our business. It's good that they're there, but they're really addressing a different market," he says.
"We want to see airplanes flying. There was a time they weren't flying because owners were frightened of not getting parts. Now potential owners will see that the airplane is being supported and say: 'I want one.'"