Chinese electric vertical take-off and landing (eVTOL) aircraft start-up EHang has joined forces with the Spanish city of Seville to develop and launch the country's first urban air mobility (UAM) service.
Under the terms of the agreement, EHang and the Seville government will create the infrastructure to support the development and operation of eVTOL aircraft and unmanned air vehicles (UAVs) throughout the city for the transportation of passengers and cargo.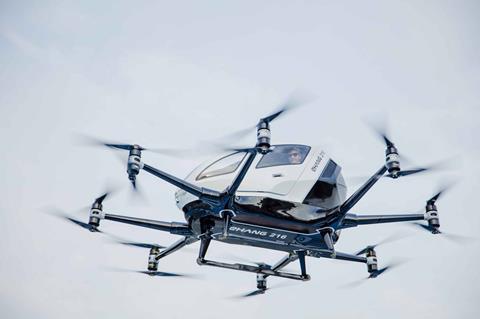 Guangzhou-headquartered EHang will also undertake flight-trials in Seville of its 216 eVTOL aircraft, although a start-date and timeframe for this initiative has not been disclosed by either party.
EHang founder and chief executive Hu Huazhi says UAM will help to "relieve traffic congestion" in the ancient city "and better preserve its historic sectors".
"As popular tourist city, we hope to open up flying routes for sightseeing so that visitors from around the world can experience the spectacular cityscape of Seville by air," Huazhi adds.
Juan Espadas Cejas, Seville's mayor describes the partnership as "a great opportunity" for the southern Spanish city. "We look forward to EHang's first flight … and hope our co-operation will facilitate the commercialisation of its UAM ecosystem in Europe".
EHang points to a 2019 European Commission-led report on urban mobility which points to 60% of EU citizens living in urban areas of over 10,000 inhabitants, and facing "traffic congestion and air pollution".
"In recent years, UAM has emerged as an efficient and eco-friendly solution for urban transport", the company says. This new wave of aircraft will provide a "convenient way to transport people and cargo" and also create thousands of jobs, it adds.
Describing itself as a "pioneer in UAM development", EHang has already conducted over 2,000 test flights in multiple countries, including Austria, China, Qatar, the United Arab Emirates and the USA.
It will continue to partner with cities worldwide to test fly its two-seat 216, EHang says, and establish UAM services globally. "Our mission is to make safe, autonomous, and eco-friendly air mobility accessible to everyone."