Embraer sees an opportunity to eventually develop a larger business jet to help it retain customers looking to upgrade from midsize Praetor 500s and 600s.
That is according to Embraer Executive Jets chief executive Michael Amalfitano, who says his team is also eyeing possible new offerings in the light jet segment, where Embraer now competes with the Phenom 100 and Phenom 300.
Still, the company has made no commitments to launching any new aircraft development, and Amalfitano says his priority is expanding Embraer's aftermarket support network.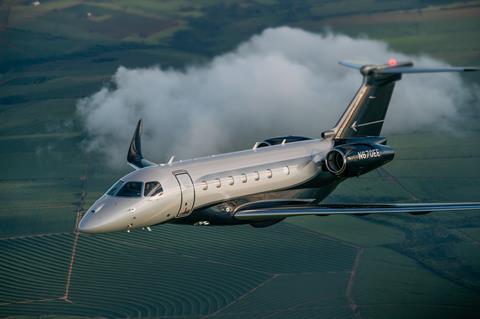 However, aware of the need to keep customers who are moving up in cabin size and range, Embraer is weighing potential successors to its current business jet line up, which includes four types, two light and two midsize.
"Longer term, you are going to see us look upstream at what's next above the Praetor 600 super-midsize aircraft," says Amalfitano. "Clearly, that's an opportunity that's intriguing for us to assess and evaluate.
"Now that the fleet is continuing to grow, we need to be mindful that we need to keep those customers in our product family," he adds.
Amalfitano specifies Embraer will no longer focus on "bizliners" – passenger jets converted to business aircraft – having cut its teeth in the sector with the E190-based Lineage 1000E and the ERJ-145-derived Legacy 600/650. "We're going to stay true to… clean-sheet, purpose-built executive jet aircraft that are designed for the markets in which they serve," he says.
Embraer's two light jets – both of which allow for operation by single pilots – include the 1,180nm (2,180km)-range, seven-passenger Phenom 100EV, and 2,010nm-range, 10-passenger Phenom 300E. Its nine-passenger, 3,340nm-range Praetor 500 and 12-passenger, 4,020nm-range Praetor 600, round out the midsize offering. The company launched the Praetor programme in 2018 and delivered the first 500 and the first 600 in 2019. They are derivatives of Embraer's Legacy 450 and 500.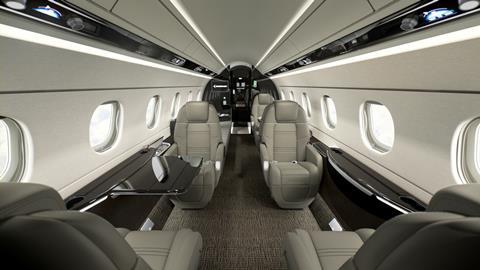 Amalfitano's comments came ahead of the EBACE business jet show in Geneva, set to start on 23 May. The event should reveal more about the state of the market, which executives have described recently as slowing after several years of red-hot demand.
Embraer and competitors took new orders hand over fist during the pandemic, when money was cheap and travel by commercial airline particularly unappealing. Embraer Executive Jets' closed March with a backlog worth $4.1 billion, up from $1.4 billion at the end of pre-pandemic 2019.
Amalfitano describes Embraer as particularly well positioned to scoop up orders from first-time buyers during the Covid-19 era, thanks to offering what can be called an "entry level" business jet – the Phenom 100EV.
"We… had that huge influx of new buyers during the pandemic period, and that has been a very sticky part of the market segment," he says. "It's a step change that happened in the marketplace."
But demand has since cooled from pandemic highs, a shift Amalfitano attributes to factors including broadly slowing economic growth and "sustainability pressures" – the heat faced by buyers and manufacturers to curb carbon output.
"You are seeing a calming effect," Amalfitano says. "Everyone got used to the double-digit growth that took place over the last three years."
"It'll come back to that high-single-digit growth that it's always enjoyed," he adds.
Embraer Executive Jets' first-quarter 2023 revenue slipped 3% year-on-year to $87 million.
Amalfitano views Embraer as well-positioned thanks partly to ongoing sales success with US fractional aircraft ownership companies. On 11 May, it disclosed that Columbus, Ohio-based NetJets agreed to buy up to 250 Praetor 500s in deal Embraer says is worth up to $5 billion. NetJets is already a Phenom 300 customer, having ordered the type in 2010 and signed a follow-on deal in 2021.
Competing fractional player Flexjet was launch customer of the Praetor programme, having signed orders for those types in 2019.
"That was a really big catalyst," Amalfitano says of the Flexjet deal, noting it enabled Embraer to significantly expand its global presence. At the time, Flexjet, also based in Ohio, was expanding in Europe.
Embraer has also secured a strong foothold among corporations that need to fly executives between US cities, Amalfitano adds, noting, as an example, that Embraer in late 2022 delivered an aircraft – a Praetor 600, according to Cirium data – to US fast-food chain Chick-fil-A.
MOVING ON UP?
Amalfitano says Embraer is focused on protecting hard-won turf, including by considering development of new aircraft such as larger jets. He does not elaborate, but Embraer's Praetors sit in the class below the ultra-long-range, large-cabin business jets produced by the likes of Bombardier, Gulfstream and Dassault.
Amalfitano is also wary of competition in the light-jet segment, where Embraer has long held a commanding presence, with its Phenom 300 series having been the best-selling light jet for 11 years running.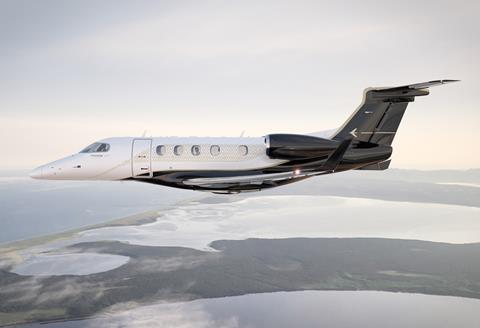 But Amalfitano notes threats posed by "the strength of the turboprop marketplace and the personal jet marketplace".
Indeed, Textron Aviation is developing its single-turboprop, six-passenger Beechcraft Denali, now scheduled for certification in 2025. Also, Honda Aircraft, which helped invent the very-light-jet category with its HA-420 HondaJet, says it is developing a larger successor called the 2600 that will be able to fly across the USA and carry about nine people.
"That opens the door for us to make sure that we're protecting our downstream strategy as well… Lots ahead for us," Amalfitano says.
He does not specify a timeline and stresses that Embraer's development efforts will prioritise "sustainability". Amalfitano also sees synergy with electric air taxi developer Eve, of which Embraer owns 90%. Such novel aircraft could possibly carry passengers short distances to waiting Embraer jets, he says.
Such ambition aside, Embraer's immediate priority is strengthening its aftermarket network – a strategy pursued in recent years by other business jet manufacturers.
"The first thing you're going to see is investments and announcements associated with our services and support areas," Amalfitano says, specifying that Embraer will seek to grow that work through means including "organic growth", mergers, acquisitions and "strategic partnerships".
"We're going to be making sure that we add to the capabilities that we already have globally to service our customers," he adds.
Meanwhile, Embraer must also make good on delivery commitments amid an incredibly stretched supply chain and tight labour market.
The company aims to deliver 120-130 executive aircraft in 2023, which would be about 20-30% more than the 102 aircraft (including 66 Phenoms and 36 Praetors) it delivered last year.
"The biggest issue is the loss of talented master craftsmen and specialised workforce" – across the aerospace manufacturing industry, Amalfitano says.
"It's going to continue to dampen the timing of when things deliver," he adds. "But we still feel very confident in our relationships with our partners, to be able to deliver our guidance for the year."