Embraer is now offering its Phenom 300E with an optional auto-throttle system, bringing the light jet's avionics further in line with systems found on larger business jets.
The feature integrates with the Phenom 300E's Garmin G3000 avionics package and will be available on newly produced aircraft in the third quarter of 2024, the Brazilian manufacturer says on 12 October.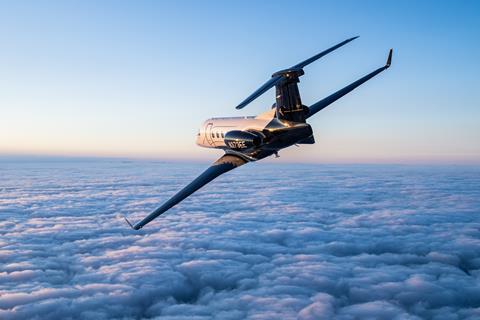 "Pilots will be able to enjoy a more automated and intuitive flying experience through the auto throttle's advanced automation technology, which will assist in throttle control during various phases of flight," Embraer says.
The company also expects to make the auto throttle available, starting in the fourth quarter of next year, as an aftermarket retrofit on used Phenom 300Es manufactured since 2022, says Embraer Executive Jets chief commercial officer Stephen Friedrich.
"The auto throttle's been something that has been asked for by a lot of our owner pilots. And it's something that we now have the ability to go ahead and put into the cockpit," he adds.
Embraer Executive Jets director of sales engineering Ricardo Carvalhal describes the auto-throttle feature as "augmenting the pilots' ability to fly the airplane", and describes the technology as particularly valuable because the Phenom 300E is typically flown by a single pilot.
"It's really like bringing a car from a stick shift to an automatic transmission," Carvalhal says. "We will definitely reduce the pilots' workload."
Powered by twin Pratt & Whitney Canada PW535 turbofans, Phenom 300Es can carry up to 10 passengers and have range of 2,010nm (3,723km) with five people aboard. Embraer assembles Phenom 300Es and the smaller Phenom 100 in Melbourne, Florida.
The auto throttle will also integrate with the Phenom 300E's emergency descent mode, which automatically descends the jet in cases of lost cabin pressure. In such instances, pilots are supposed to reduce the throttles to idle.
"With the auto throttle, the pilot doesn't have even to put the throttles on idle. The airplane will take care of the whole flying-down cycle by itself," says Carvalhal.