Gulfstream says the Federal Aviation Administration (FAA) has certificated the Rolls-Royce Pearl 700 turbofans which power its G700 and G800 large-cabin business jets.
Gulfstream, which aims to have the G700 certificated first, disclosed the milestone on 8 September.
FAA documentation shows the type certificate was issued on 16 August – almost a year since the engine was approved by European regulators.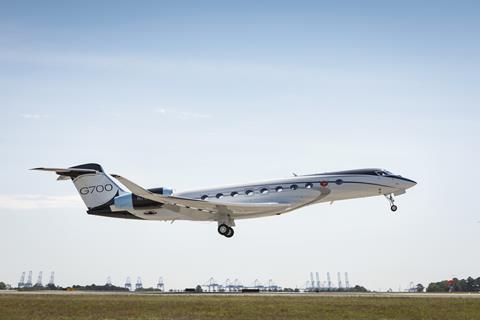 Gulfstream says the Pearl 700's FAA certification brings the G700 and G800 programmes "another step… towards entry into service and customer deliveries".
"The G700 and G800 are introducing new standards for efficiency and performance in the business aviation industry thanks to the combination of Gulfstream aerodynamics and the Pearl 700's efficiencies," adds Gulfstream president Mark Burns.
R-R developed the 18,250lb (81.2kN)-thrust Pearl 700 specifically for G700 and G800 business jets. Gulfstream launched those development programmes in 2019.
The engines have 10-stage high-pressure turbines and four-stage low-pressure turbines, and generate 8% more take-off thrust than R-R's previous generation BR725 turbofans, according to the engine maker.
The G700 and its G800 sister – both 19-passenger long-range business jets – are to become Gulfstream's flagships when they enter service. The G700 will have 7,750nm (14,307km) of range and a cabin measuring 17.3m (56.9ft) front to back. The G800 is a bit smaller – its cabin measures 14.3m in length – but Gulfstream advertises its range as 8,000nm.
Gulfstream has repeatedly delayed both jets' certification programmes, with executives blaming the timeline pushbacks on increased scrutiny by the FAA.
The company now aims to have the G700 certificated this year and the G800 cleared next.
This article has been edited to clarify the Pearl 700's certification date.