Textron Aviation has secured US Federal Aviation Administration (FAA) approval for its upgraded Beechcraft King Air 360 and 360ER twin-turboprops.
Obtained on 5 October, the certification will enable customer deliveries to start "in the coming weeks".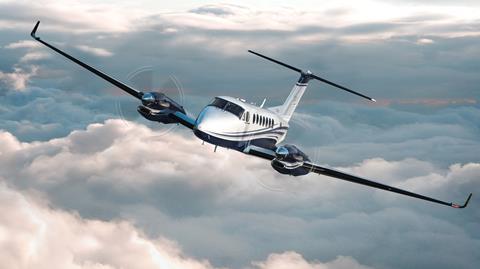 Announced in August this year, the upgrade of the King Air 350 and 350ER sees the addition of an Innovative Solutions & Support ThrustSense autothrottle, plus an automatic digital pressurisation controller. Both modifications are designed to reduce pilot workload.
In addition, cabin altitude is reduced by 10% over the King Air 350i, to 5,960ft at the cruising altitude of 27,000ft. Plus, the entire passenger cabin has been redesigned and features new cabinetry and materials.
"By incorporating superior features and engineering advancements into an aircraft that is renowned for its versatility and reliability, we have elevated the King Air to the next level," says Chris Hearne, senior vice-president, engineering and programmes.
"With certification now in hand, we are thrilled to soon get these aircraft into the hands of our eager customers."