Dassault Aviation has performed a maiden sortie of its new Falcon 6X, keeping the ultra-wide-cabin business jet on track for service entry next year.
Conducted from the airframer's Merignac production site in southwest France, the flight lasted 2h 30min, reaching an altitude of 40,000ft and a speed of Mach 0.8.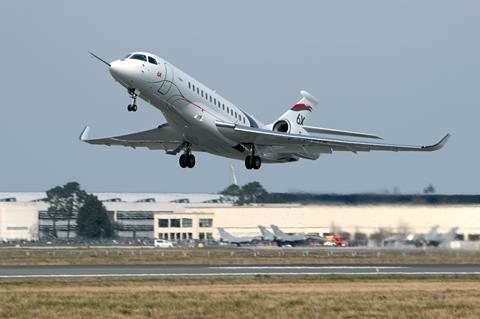 "The 6X flew exactly as predicted by our models. From a pilot's perspective, it flies like a Falcon, which is to say with perfect precise handling in all phases of flight," says test pilot Bruno Ferry.
Powered by twin Pratt & Whitney Canada PW812D engines, the jet will soon transfer to Dassault's flight-test centre in Istres near Marseille.
Two further flight-test prototypes are currently being assembled and will fly shortly, the company says.
Dassault rolled out the Falcon 6X in December and last week reiterated a service-entry date of late 2022.