Bombardier has flown its first Global 8000 prototype as the airframer looks to keep the new jet on track for service entry in the latter half of 2025.
Launched at EBACE last year, the 8,000nm (14,800km)-range twinjet builds on the current Global 7500, using the same wing, fuselage and GE Aerospace Passport engines.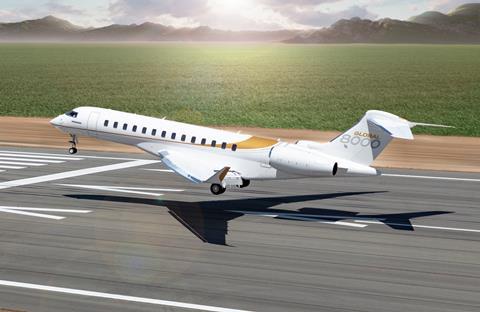 Although Bombardier has already flown a modified version of its FTV1 test aircraft, the recent sortie shows the programme continuing to make progress.
Stephen McCullough, senior vice-president of engineering and product development, speaking at EBACE on 22 May, said the milestone took place "last week" and the aircraft performed flawlessly.
"On the first day of testing it conducted a flight of more than 7.1 hours," he says.
"We are fully on track for a successful service entry in the second part of 2025," he adds, noting that the airframer is "confident of meeting its performance commitments", carrying 19 passengers at speeds of up to Mach 0.94 – up to 1.3% faster than the Global 7500's M0.925 maximum.
Changes between the two aircraft include modifications to the control software for the Passport engines and the carriage of more fuel to boost range.
Bombardier has previously indicated it would use a single prototype for the test campaign.

Dominic Perry is deputy editor of Flight International but also contributes extensively to flightglobal.com. Although specialising in the coverage of the helicopter industry, he has written on most topics in aerospace – be they commercial, defence or business aviation. In addition, there has been an increasing focus on the decarbonisation of the industry and zero-emission flight initiatives.
View full Profile