Gulfstream's first G700 delivery could slip three to six months beyond the end of 2022 due to a newly required intensive review of the jet's software.
The additional software validation, a result of broader certification requirements not related to Gulfstream's jets, could also delay service entry of Gulfstream's G800, Phebe Novakovic, chief executive of Gulfstream parent General Dynamics, says on 27 April.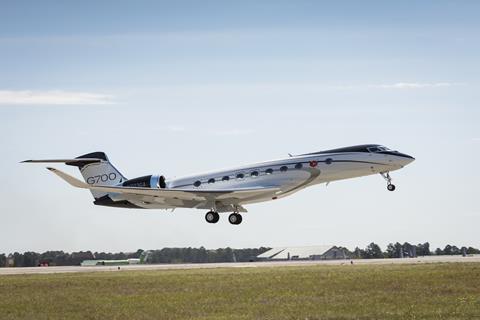 She adds that Savannah-based Gulfstream is not certain of delays and still aims to meet its original goal of delivering the first G700 before year-end.
"The flight-test programme has a first-time requirement that was not part of our original… plan," says Novakovic. "It seems prudent for us, at this time, to… [warn of] the risk of a three-to-six month delay."
Based on that timeline, the G700's service entry could come as late as mid-2023. "The ultimate timing is dependent on the FAA," Novakovic says.
The news comes after Gulfstream president Mark Burns told FlightGlobal in March that the airframer's certification work had become more intensive due to increased scrutiny by the Federal Aviation Administration following two Boeing 737 Max crashes.
Investigators attributed those accidents partly to the design of a flight control software.
Novakovic describes Gulfstream's review as a "a line-by-line examination of the plane's software". She says "the level of effort is considerable".
Asked why Gulfstream is subject to new certification requirements, Novakovic says without elaborating, "It is a result of events that are independent of us".
Gulfstream has been developing the G700 alongside its sister ship G800. Previously, it aimed to deliver the first G800 in 2023.
On 27 April, Novakovic says Gulfstream expects to deliver its first G800 six to nine months after the first G700, meaning the G800 might not be flying with customers until early 2024.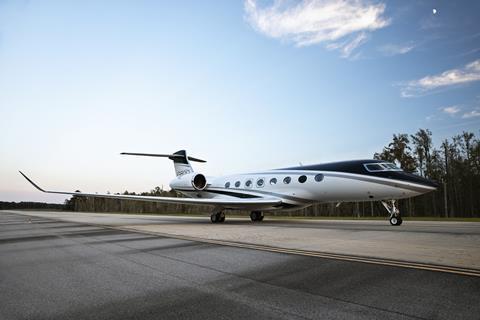 The company intends to compensate for G700 delivery delays by delivering more of its current in-service jets, says Novakovic.
Gulfstream launched the 7,500nm (13,890km)-range, 19-passenger G700 in October 2019. It has started assembling the first G700 production aircraft and expects the type's Rolls-Royce Pearl 700 powerplants will be certificated in the "next few months", Novakovic says.
Gulfstream followed the G700 by launching a longer-range sister ship, the G800, in October 2021. The 19-passenger Pearl 700-powered G800 is about 3m (9ft 10in) shorter than the G700 and has 8,000nm of range.