Fractional ownership firm Flexjet has bought Canadian maintenance, repair and overhaul company Flying Colours to bring more of its MRO activities in house and differentiate itself from its rivals.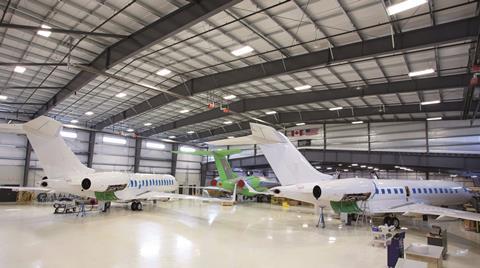 It follows the acquisition last year by the Directional Capital-owned company of Cleveland-based Constant Aviation, a specialist in engine, airframe and avionics MRO services.
Flexjet has been a long-standing customer of Flying Colours. The fractional company's chairman Kenn Ricci says that adding Flying Colours to the Constant Aviation network will "ensure both the highest possible service quality and maximum availability of aircraft for our owners".
He adds: "Unlike other companies in our space that rely on third party providers for their MRO needs, Flexjet now fully controls its maintenance and product support needs."
Flying Colours, based in Peterborough, Ontario and with a second site in St Louis, Missouri, was set up more than 40 years ago by the Gillespie family, and has built a reputation as a leading cabin completions specialist on Bombardier and other large business jets.
Chief executive John Gillespie will remain with the company, along with 250 employees, and oversee Flexjet's completions strategy.
Flying Colours recently opened paint and completions hangars at its Peterborough airport facility.
As fractional ownership and ad hoc charter grows in popularity, access to MRO services is increasingly seen as a risk by large fleet operators, who rely on their aircraft being available on demand. .
Flexjet's main rival NetJets operates more than 10 maintenance service hubs in the USA and Europe, although these are focused on routine maintenance and parts supply rather than heavy-duty overhaul or cabin completions.
At the same time, the aftermarket is increasingly seen as a highly lucrative activity in business aviation. The big three manufacturers, Bombardier, Dassault and Gulfstream, have all significantly increased their in-house service footprint in recent years.
That, along with other supply chain pressures that have afflicted the wider aviation and aerospace sectors during the recovery from the pandemic, is why vertical integration, so long out of fashion as a business strategy, is back in vogue.
Flexjet's acquisition of Flying Colours comes just weeks after it abandoned a plan – announced last year – to become publicly listed through a merger with special purpose acquisition company, or SPAC, Horizon. At the time, Ricci said the deal would give Flexjet access to much needed capital to expand its business.
Flexjet operates a fleet of around 250 jets, including Bombardier Challengers, Gulfstream G450s and G650s, and Embraer Phenoms and Praetors.