Jim Segrave has no fears about directly taking on fractional ownership giants NetJets and Flexjet, after the charter company he founded, FlyExclusive, this week launched its fractional programme with a purchase agreement with Textron Aviation for 30 new Cessna Citation CJ3+ jets.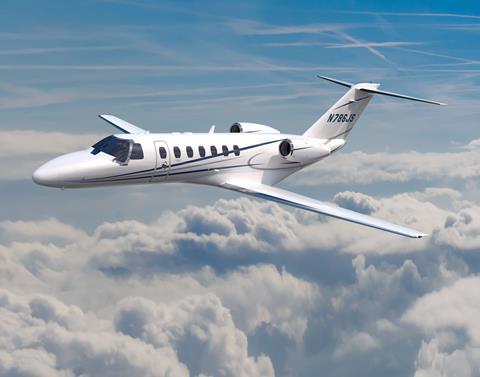 The service will be offered as an adjunct to FlyExclusive's membership and ad hoc charter offering. With a fleet of around 90 aircraft – all Citations apart from seven large cabin Gulfstream GIVSPs – the Kinston, North Carolina-based firm claims to be the fourth biggest private charter operator in the USA.
Although the new CJ3+ aircraft will not begin arriving until the first half of 2023, Segrave will launch the fractional product using Citation light jets already in the fleet.
He believes that "strong demand" for fractional ownership, and private business travel in general, will see FlyExclusive selling "100%" of its shares immediately they are offered to the market.
A number of attempts to launch fractional ownership programmes in the USA have ended in failure. However, Segrave, who sold an earlier company, Segrave Aviation, to a subsidiary of Delta Air Lines in 2009, believes many made the mistake of trying to do it from a standing start.
"You can't just launch a fractional without aircraft. We are launching with 20 CJ3s and Encores in our fleet, so we have that critical mass, that back-up already," he says.
FlyExclusive also has the benefit of an existing membership base for its charter services, some of whom, hopes Segrave, will trade up to fractional ownership. However, he also hopes to entice new entrants to the market.
At the same time, he believes that FlyExclusive will "deliver a better level of service" than its larger rivals because they typically have up to 20 owners for every aircraft, creating operational challenges when demand is high. "We have 4.5, so we can take on 2,000 customers and still have the same [per aircraft] ratio as Flexjet or NetJets," he says.
Under the agreement with Textron, FlyExclusive will take five aircraft next year with the option to purchase additional CJ3+ jets for delivery through 2025. Segrave anticipates operating up to 80 fractionally-owned Citations "in short order" as part of an overall 200-strong FlyExclusive fleet by 2025. "We are going to be adding planes at a rapid rate," he says.
He expects to supplement the CJ3+ light jets with midsize types; Textron's main offering in this segment is the Citation Latitude.
FlyExclusive is still determining what fractional packages to sell, although Segrave says: "We like 5% as an entry point." He says the decision to opt for fractional ownership is not necessarily based on annual hours flown, but "whether they want to fly a new airplane every time", as well as the opportunity to offset tax against a depreciating capital asset.
The company, which owns or leases its entire fleet, uses an identical livery and registration convention on all its aircraft and is moving towards common cabins, says Segrave.
FlyExclusive says a "year of explosive growth" in 2021 vaulted it from seventh to fourth largest charter operator in the country, with its 43,000 flying hours 75% up on 2020.
Segrave had been operating his previous company since 1994 when it was acquired by Delta AirElite. After a short time heading the Delta subsidiary, Segrave set up FlyExclusive in 2015. After a rebrand, Delta AirElite was in turn subsumed into charter operator Wheels Up in 2020.