US business-jet maker Gulfstream has roared back to NBAA after a three-year hiatus during the coronavirus pandemic.
The company is making a splash this year, arriving at the show with all but one of its in-production and in-development business jets – the exception being its G400, which remains in early stages of development.
"We are excited to be back… We will have our full fleet on display," says Gulfstream chief marketing officer Jeannine Haas.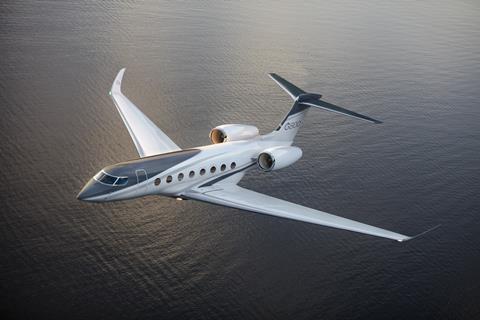 At the Orlando Executive airport static display, Gulfstream is showcasing its super-midsize 3,600nm (6,667km)-range G280 and its three long-rang, large-cabin jets: the 5,300nm-range G500, 6,600nm-range G600 and 7,500nm-range G650ER.
Additionally, two new Gulfstream types debuted at this year's NBAA: a pair of production-test G700s and single G800 flight-tester. The G700's arrival is fitting considering Gulfstream launched the type with pizazz during its last NBAA appearance, at 2019's Las Vegas exhibition. Gulfstream launched the G800 at a Savannah event in 2021.
The 7,500nm-range G700 and 8,000nm-range G800 (both can carry 19 passengers) remain in development. Gulfstream aims for the first G700 to enter service by mid-2023, followed by the G800 in early 2024.
"Each aircraft sets a new standard for the industry, in terms of safety, high speed, performance, environmental efficiency and an unmatched cabin experience," Haas says.
Gulfstream did not forget about its in-development, 4,200nm-range G400, which it launched alongside the G800 last year and which it aims to begin delivering in 2025. The company comes to NBAA with a G400 mock up.
"We've already started some manufacturing of the G400, and it's progressing very well," Haas says. "The aircraft has good, solid demand – off to a great start."
Gulfstream has reported incredibly strong demand recently, with parent General Dynamics reporting a mid-year aerospace backlog of $5.8 billion, up from $2.7 billion one year earlier. To meet that demand, Gulfstream is expanding its G400/G500/G600 manufacturing footprint in Savannah.
It aims to keep the momentum going by sending its two production-test G700s from NBAA on a "world tour", with the jets visiting some 20 cities in Mexico, Europe, Turkey, Southeast Asia, Africa, the Middle East and India, says Gulfstream senior vice-president of worldwide sales Scott Neal.
"It's an opportunity for us to show the airplane to markets around the world, generate some excitement… And to hopefully take some orders in the process," he says.