The body that represents business and general aviation manufacturers is putting a positive spin on supply chain pressures that have led to customers waiting longer for aircraft, suggesting they put a helpful "governor" – or speed limiter – on unsustainable demand.
It comes as the General Aviation Manufacturers Association (GAMA) revealed the sector's full-year figures for unit deliveries and billings. While all the major airframers boosted their aircraft output in 2022, revenue increases tended to be even greater, indicating some impact from inflation perhaps, but also that manufacturers are better able to maintain their prices.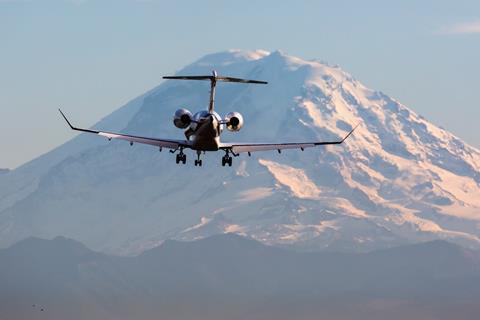 For instance, business jet deliveries overall increased by just two aircraft – to 712 from 710 in 2021 – but they were up 4.5% in value terms.
Turboprop shipments, meanwhile, rose 10% on 2021 in unit terms at 582. However, billings were 15% higher.
The top five manufacturers – Bombardier, Dassault, Embraer, Gulfstream and Textron Aviation – all saw their unit deliveries and billings rise in 2022.
Overall billings for fixed-wing piston-, turboprop- and turbine-powered aircraft were $22.9 billion, up from $21.6 billion in 2021 and the highest figure since 2019's $23.5 billion.
Although billings dipped to $20 billion in 2020, it is further evidence that business and general aviation manufacturers largely avoided the steep downturn in deliveries experienced by their commercial counterparts during the pandemic and in its immediate aftermath.
While the industry has been hit by the same shortages and delays in engines and other components as the airliner sector, GAMA chairman Eric Hinson claims these are helping to keep supply and demand in equilibrium.
"It is not necessarily a bad thing for the supply chain to be acting as a governor on demand," he says.
GAMA highlighted other trends from the annual figures, including the continuing strength of the single-engine turboprop market – whose main players are Daher, Pilatus, Piper and now Textron Aviation's Cessna and Beechcraft brands – indicating that owner operators of piston-singles are choosing to graduate to turboprops rather than to piston-twins as might have been the case in the past.
Demand for mid-size aircraft in North America also remains robust. These types are corporate workhorses, and the USA and Canada have the critical mass of airports and other infrastructure that allows them to operate efficiently, says Hinson.