Gulfstream has completed an expansion in Savannah of the manufacturing facility where it assembles G400, G500 and G600 business jets, leaving the company prepared to increase output when supply chain pressures allow.
The addition gives Gulfstream another 142,000sq ft (13,192sq m) of space at the site and precedes its transition of the G400 programme from development to full production.
"We designed the G400, G500 and G600 to have a number of commonalities that increase both operational and manufacturing efficiencies," Gulfstream president Mark Burns says on 31 October. "Those commonalities mean that we have the flexibility to easily expand production lines to meet the growing demand for these aircraft."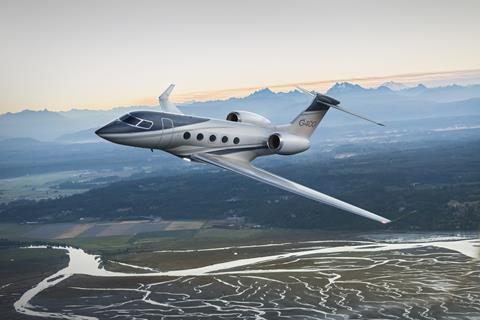 Gulfstream and its competitors secured a raft of new orders for business jets as demand boomed during the Covid-19 pandemic. The companies are now seeking to ramp up production to meet delivery commitments.
Gulfstream has already been producing G500s and G600s on two lines at the site. With the addition, it has added a third line and additional space for producing its in-development G400.
"Production methods for the G400, G500 and G600 were designed with Gulfstream's Savannah-based research and development team and include advanced automation, 3D model designs, and robotic and bonding techniques that result in unprecedented quality and precision," it says.
Gulfstream launched development of the 5,300nm (9,816km)-range G500 and its sister ship, the 6,600nm-range G600, in 2014, then followed in 2021 by launching the smaller G400, which is to have 4,200nm of range. It has been delivering G500s since 2018 and G600s since 2019 and aims to begin G400 deliveries in 2025.
The company developed the manufacturing site from the start to accommodate all three models, executives have said.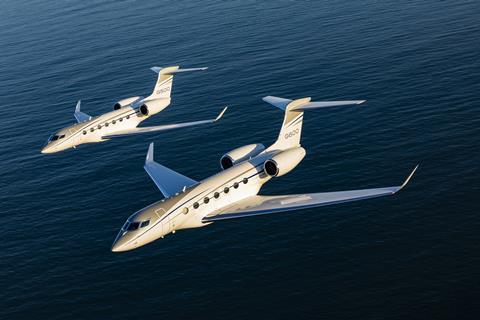 Gulfstream and other aircraft manufacturers have struggled to meet production goals amid lingering supply chain troubles driven largely by shortages of skilled workers.
This month, Gulfstream trimmed its 2023 output expectations, saying it now anticipates delivering 10-12 fewer aircraft than the 145 jets it previously expected to deliver this year.
The company delivered 72 business jets in the first nine months of 2023, down from 82 during the same period of 2022.
It aims to achieve certification of another jet, the 19-passenger, 7,750nm-range G700 before year end, followed by certification of its 8,000nm-range G800. Gulfstream produces G650ERs, G700s and G800s in another Savannah facility.