Business jet maker Gulfstream has bumped up the advertised maximum speed and range of its in-development large-cabin G700, a move coming as the company works to obtain certification for the delayed programme.
On 5 September, Gulfstream said it had added 250nm (463km) to the G700's maximum specified range when flying at Mach 0.85, bringing the figure from 7,500nm to 7,750nm.
Similarly, it now says the G700, when flying at M0.90, can cover 6,650nm – also 250nm more than previously advertised.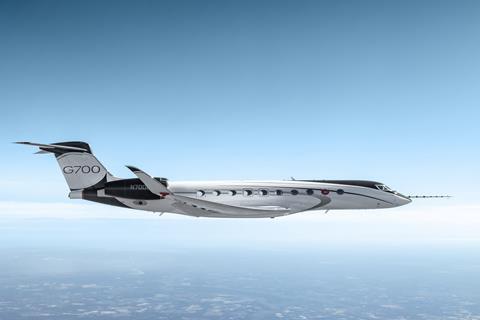 The company adjusted the figures in response to the jet's performance during the type's ongoing certification flight-test campaign.
"During certification flying, the aircraft has demonstrated increases in range and speed," Gulfstream says.
The Rolls-Royce Pearl 700-powered G700's new advertised maximum operating speed has also increased to M0.935, up from M0.925.
The aircraft's certification programme has already been delayed several times by Gulfstream. The company now aims to complete the process with the Federal Aviation Administration (FAA) by year-end.
"We will be delivering an extremely mature, rigorously tested aircraft that will outperform expectations in speed, range and cabin comfort. Our certification efforts continue to advance," says Gulfstream president Mark Burns.
He also says Gulfstream, with the G700, has undertaken "one of the most extensive" validation campaigns since the passing in 2020 of a US federal law that set stricter certification requirements. The US Congress wrote the requirements in response to two Boeing 737 Max crashes and the FAA's certification of that aircraft.
Gulfstream executives have repeatedly said that the FAA's stricter requirements have made for a longer certification process.