Gulfstream continues to see strong interest in the eight-year-old G650, despite fears that newer models elsewhere in airframer's line-up would kill demand for the ultra-long-range business jet.
In particular, the launch in 2019 of the G700 raised concerns that sales of the G650/ER would be cannibalised by the new model.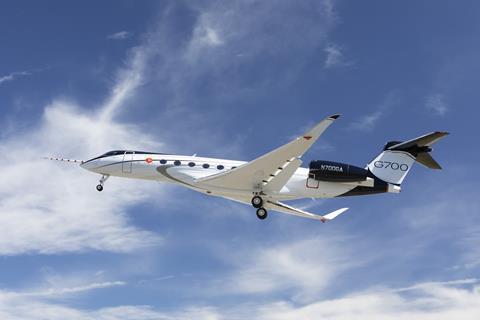 Both twinjets have similar performance characteristics – carrying up to 19 passengers on flights of up to 7,500nm (13,900km). However, the G700 boasts the larger cabin volume: 74cb m (2,603cb ft) versus 60cb m.
But Phebe Novakovic, chief executive of Gulfstream parent General Dynamics, says the G650 "continued to be in demand" during 2020, outsold in the final quarter by only the G500.
"It is a powerful airplane. There's nothing close to it in its market," she told a full-year earnings call on 27 January.
"We've talked about this a couple of times and just to refresh, the G700 and the G650 have materially different missions and are at different price points and the customers well understand the distinction."
In fact, she says, when the Rolls-Royce Pearl 700-powered G700 was announced, sales of the G650-family actually increased "because of the clarity provided in that market space".
Deliveries of the G700 are on track to begin in late 2022, says Novakovic; five flight-test aircraft are supporting the certification effort and have accumulated more than 1,000 flight hours.
Deliveries in 2020 slipped to 127 jets – 105 large- and 22 medium-cabin – from 147 (split 114/33) the previous year.
Revenue in the aerospace division, which also includes Jet Aviation, fell by 17.6%, to $8.1 billion, from $9.8 billion in 2019. Operating profit also dropped, by 29.3%, to $1.1 billion, from $1.5 billion.