Gulfstream will by year-end have delivered a combined 92 G500 and G600 aircraft since the first of the pair entered service in 2018.
While those figures highlight the twinjets' popularity, the airframer has moved to further enhance their appeal by unveiling range and payload increases based on operational data.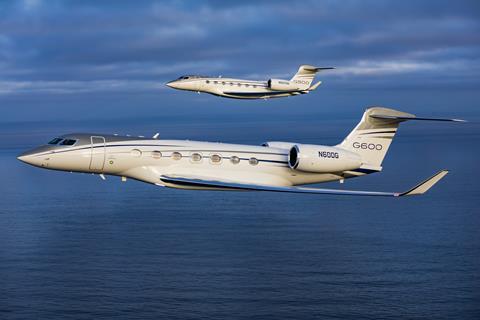 Speaking on a third-quarter results call, Phebe Novakovic, chief executive of parent company General Dynamics, said that as of 13 October 78 examples had been delivered and another 14 were anticipated by 31 December.
First delivery of the G500 was in September 2018, with the longer G600 arriving around a year later. Both are powered by Pratt & Whitney Canada PW800 engines.
While Gulfstream will meet the upper end of its delivery guidance in 2020, Novakovic says, shipping 130 jets across the full range, that figure will not be matched next year.
With production of the G550 coming to an end, "there will be 13 fewer G550 deliveries", she says. Although Gulfstream had planned to increase production of its three other large-cabin types – the G500, G600 and G650/ER – to make up the shortfall, "it now appears that the market place will not support such an increase".
Additionally, she forecasts a "modest reduction in mid-sized [G280] aircraft" next year, although this will be reviewed in April "to see if market demand at that point justifies turning up production".
Gulfstream hopes that the sales prospects for the G500 and G600 will be enhanced by range and payload rises.
Essentially, Gulfstream has added 100nm (185km) to each previously published range figure. At the long-range cruise speed of Mach 0.85, the G500 now delivers range of 5,300nm and 4,500nm at high-speed cruise of M0.90; respective figures for the G600 are 6,600nm and 5,600nm.
The basic operating weight of the G600 has also now been cut by 260kg (570lb), increasing full-fuel payload to 1,180kg.
Meanwhile, development work continues on the G700 programme, a fifth example of which joined the test fleet in mid-October to focus on avoinics assessment. The initial three prototypes had accumulated 750h by the end of September, Novakovic says, and had hit speeds of M0.99 and reached altitudes of 54,000ft.
In typical operations, the G700 has a maximum operating speed of M0.925 and a maximum cruise altitude of 51,000ft.
The 7,500nm-range G700 is powered by twin Rolls-Royce Pearl 700 engines and is scheduled for certification and service entry in 2022. First flight was on 14 February 2020.