Gulfstream has become the latest aerospace company to trim its 2023 delivery goals as supply chain troubles prove more difficult to overcome than some industry executives suspected.
"As a result of the supply chain issues that we have previously identified, we plan to deliver 10 to 12 fewer aircraft this year than the 145 we had originally forecast," Jason Aiken, chief financial officer at Gulfstream parent General Dynamics, said on 25 October.
But hitting even that number remains uncertain, being dependent on the Federal Aviation Administration issuing a type certificate before year-end for Gulfstream's large-cabin G700 business jet, adds Aiken, speaking during General Dynamics' third-quarter earnings call.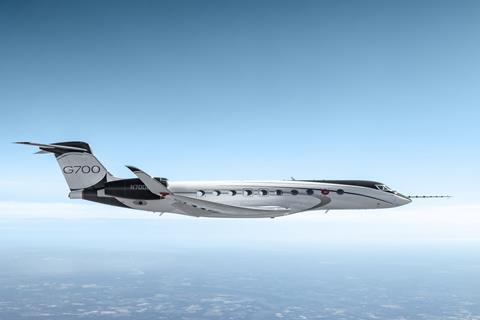 General Dynamics revealed the 145-aircraft-delivery expectation early this year but had already pared it back; in July, chief executive Phebe Novakovic warned Gulfstream would likely fall short of the goal by five or six aircraft.
Gulfstream has now trimmed the figure again, though Aiken says supply chain troubles as easing: "We are seeing modest signs throughout the quarter that things are… starting to trend better".
In the first three quarters of 2023, Gulfstream delivered 72 business jets, down from 82 during the same period of 2022. Aiken anticipates the company will hand over about 60 more in the last three months of the year.
Those will likely include 40-45 of Gulfstream's already certificated types (such as G280s, G500s, G600s and G650s) and hopefully as many as 19 G700s, of which 15 are "ready to go" as soon as the FAA certificates the type, says Aiken.
Gulfstream has on many occasions in recent years delayed the G700's certification timeline. But executives on 25 October stuck with their most-recent expectation that the FAA will issue the certificate before year-end.
But, Aiken warns, "There is a considerable amount of uncertainty as we get closer to certification."
General Dynamics' aerospace business – which includes Gulfstream and Swiss business aviation services company Jet Aviation – turned a $268 million operating profit in the third quarter, down 14% year-on-year. The company's aerospace revenue slipped 13% year-on-year to $2 billion.
Other large aerospace companies in recent days also reset 2023 goals.
On 25 October, Boeing said it now expects to hand over 375-400 737s in 2023, down from a previously estimated 400-450 deliveries, thought the aircraft maker attributes the cut to quality problems, not supply chain snags.
On 24 October, GE Aerospace said its CFM International joint venture will likely deliver 1,590-1,647 Leap turbofans this year, down from a previous estimate of 1,704 deliveries. Executives at the engine maker cited "supply chain challenges that we are having internally".
Story corrected on 31 October 2023 to remove the G400 from the list of Gulfstream's certificated jets. Regulators have not yet certificated the G400.