Gulfstream has further restricted the wind conditions in which G500s and G600s are permitted to land, a move following a recent hard landing involving an unexpected flight-control mode change.
The new restrictions, specified in flight manual updates, include "maximum wind speeds for landing" of 15kt (28km/h) – including gusts. They also establish a "maximum wind gust for landing" of 5kt.
Gulfstream's safety changes were contained in a 29 April "Maintenance and Operations Letter" from the airframer to "all" G500 operators. The letter is available on online publishing platform Scribd.com.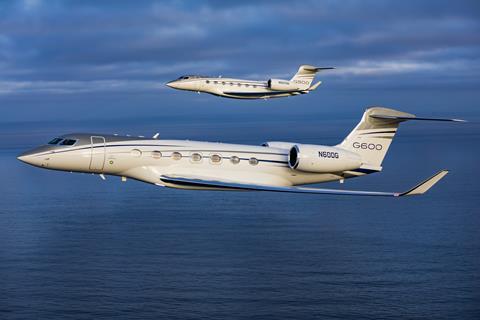 The letter says Gulfstream is working on a long-term software fix.
Seemingly the issue involves the same flight-control problem Gulfstream sought to address with updates in 2020 to the G500 and G600 flight manuals.
The latest news comes amid heightened Federal Aviation Administration scrutiny. Days ago, Gulfstream warned that new software evaluation requirements could delay certification of its ultra-long-range G700 by three to six months.
"Gulfstream is and has been working closely with the FAA on a software update for the G500 and G600 to remove published operational landing limitations in gusty wind (>15 knots) conditions," the company tells FlightGlobal.
"Company testing of this update has been completed and we anticipate FAA approval and subsequent deployment later this year."
The G500, certificated in 2018, shares technologies with its sister ship, the G600, which was approved in 2019.
HARD LANDING
Gulfstream's 29 April letter says the flight manual updates follow a "hard landing event following an approach and landing in gusty winds". It does not specify the location or date of the incident, but calls it "recent".
"Initial data analysis of the event indicates the aircraft flight-control system entered Angle of Attack (AOA) Limiting Mode at approximately 12ft above ground level following a series of large, rapidly alternating pitch stick inputs," says the document.
AOA Limiting Mode is a flight-control mode that can limit the aircraft's response to pilot input, and command nose-down elevator input, according to a related video from Savannah-based Gulfstream.
The revised manual, which was scheduled to be released 2 May, will also specify that the G500's minimum approach speed "during all approaches" should be the "reference" landing speed plus 10kt. Higher speeds require longer landing distances.
Additionally, the updates call for pilots to use "auto-throttle for approach and landing during normal operations".
The letter says Gulfstream expects the FAA will mandate the flight manual changes in a new airworthiness directive (AD).
The FAA declines to comment about pending ADs or the apparent recent hard landing. The National Transportation Safety Board did not immediately confirm knowledge of the incident.
SOFTWARE UPDATES
Gulfstream's letter describes the flight-manual changes as "an interim mitigation solution until Gulfstream can implement a flight-control system software update to modify the AOA Limiter performance and remove these new limitations".
The 29 April letter addresses an issue seemingly identical to one that became known in 2020.
On 13 March 2020, the FAA issued an AD responding to an incident involving activation of a G500's AOA Limiter Mode "during landing flare in unstable air".
The pilot had "insufficient nose-up authority to control the descent rate at touchdown, even though the side-stick was in the full aft position", says the 2020 directive. "The airplane landed in a 900-feet-per-minute descent, with resulting damage."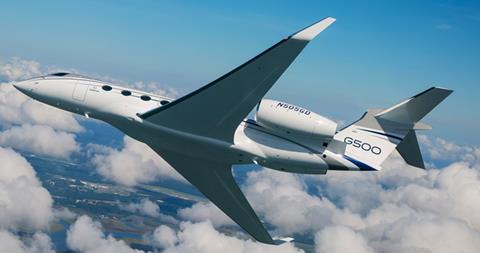 The AOA Limiter was found capable of engaging "even when the airplane is not near a critical angle of attack", it adds. "Unstable air, combined with rapid, large and alternating pitch commands, contributes to the alpha limiter engaging at an inappropriate time."
The AD in 2020 required operators to adopt flight manual changes. Those changes, finalised by Gulfstream in March 2020, prohibited G500s and G600s from taking off in crosswinds exceeding 22kt, including gusts. It also required that pilots fly minimum approach speeds 5kt higher than reference speeds.
Gulfstream addressed the flight-control issue in an undated video called "GV-II-G500 Hard Landing Event: Mitigation Strategies".
"In this event, the limiter's initial nose-down elevator input was larger than that seen during company and certification testing, and the recovery to commanded AOA was slower than that seen during company certification testing," Gulfstream director of flight operations test Todd Abler says in the video.
Abler instructs pilots to properly hold the side-stick to avoid "over-control".
Gulfstream's 29 April letter says the company will hold "forums" on 2 and 3 May to "discuss the impacts" of the new landing procedures.
"Gulfstream has proactively communicated with all G500 and G600 owners and remains available for any needed support," the airframer says.
Globally, 90 G500s and 74 G600s are in service, according to Cirium fleets data.
G700 CERTIFICATION PROGRESSES
The flight-control issues come as Gulfstream progresses with certification of its ultra-long-range G700, which shares technologies with the other types.
In recent months, Gulfstream executives said company certification projects have come under increased scrutiny by the FAA, citing new software evaluation requirements.
By all accounts, the FAA has proceeded cautiously after flight-control-system malfunctions contributed to two Boeing 737 Max crashes that killed 346 people.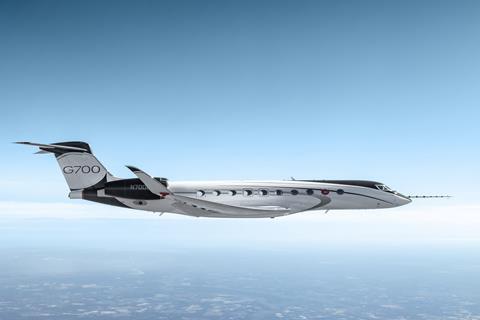 On 27 April, Phebe Novakovic, chief executive of Gulfstream parent General Dynamics, warned that increased software validation work could delay certification of Gulfstream's ultra-long-range G700 and G800.
Gulfstream aims to have the G700 in service by year-end, but the project now might be three to six months late, she said. Likewise, the G800's clearance could slip from Gulfstream's end-2023 target to 2024
"The flight-test programme has a first-time requirement that was not part of our original plan," says Novakovic.
Gulfstream needs to complete "a line-by-line examination of the plane's software", she adds. "The level of effort is considerable".
Gulfstream has not been more specific, though Novakovic said the additional work results from "events that are independent of us".