Business jet maker Gulfstream aims to hike its aircraft deliveries by a fifth in 2023 after missing its delivery target last year amid regulatory and supply chain issues.
The company also expects by mid-2023 to achieve certification of its large-cabin G700 business jet – though progress depends on the Federal Aviation Administration, Phebe Novakovic, chief executive of Gulfstream parent General Dynamics, said on 25 January.
General Dynamics expects Savannah-based Gulfstream will close 2023 having delivered 145 business jets, up from 120 shipments in 2022.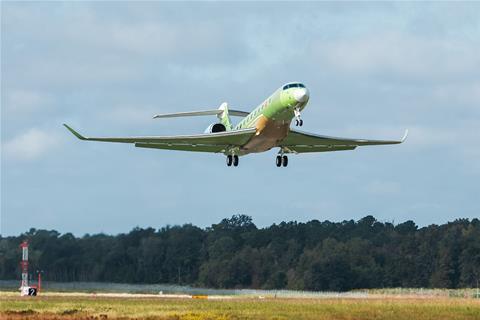 "We look forward to a significant increase in deliveries in 2023 at Gulfstream, and improved operating margin," says Novakovic. "Gulfstream deliveries will be around 145, up a little over 20%."
Her comments came the day General Dynamics disclosed its 2022 financial results. Its aerospace business – composed of Gulfstream and Swiss business aviation services company Jet Aviation – turned a $1.1 billion profit last year, up 10% from 2022.
General Dynamics had in mid 2022 anticipated Gulfstream would close last year having delivered 123 aircraft. But the manufacturer came in short, at 120 – only one more delivery than in 2021.
In 2022 executives said Gulfstream had been coping with supply chain troubles. Operating restrictions imposed (and since lifted) on G500s and G600s by the FAA also led some customers to defer deliveries.
"Three aircraft we planned to deliver in the fourth quarter slipped into the first quarter this year," says Novakovic. That change left Gulfstream with 38 deliveries in the fourth quarter, shy of its planned 41.
General Dynamics predicts its aerospace business will generate $10.4 billion in revenue this year – a figure based on 145 deliveries. That would be up 21% from the aerospace business's $8.6 billion in 2022 revenue.
The value of General Dynamics' aerospace backlog jumped 20% in 2022, closing the year at $19.5 billion, General Dynamics says.
US demand for business jets has been particularly strong, and demand from customers in Southeast Asia and the Middle East has accelerated. Demand from Europe, however, has been muted, Novakovic says.
Gulfstream is working toward certification of its large-cabin, 7,500nm (13,890km)-range G700 business jet. It initially aimed to have the jet certificated by the end of 2022, but in April last year said certification would likely not occur until mid-2023.
Novakovic says Gulfstream still aims to meet that revised timeline.
"With respect to G700 development, we estimate it will certify this upcoming summer, but much depends on available FAA resources," she says. "So far, the effort has been very collaborative and is proceeding according to plan with no surprises."
Gulfstream attributed the G700's certification delay to additional software validation required by the FAA. It has said that certification of sister ship G800 – an 8,000nm-range aircraft – will likely come six months after the G700's approval.