Backlog growth at General Dynamics' aerospace business – which Gulfstream anchors – slowed in the third quarter of 2022 amid what an executive described as slightly cooling demand for business jets.
Speaking on 26 October, General Dynamics' chief executive Phebe Novakovic also cited an uncertain economic environment – defined by high-inflation and currency devaluation – and supply chain issues.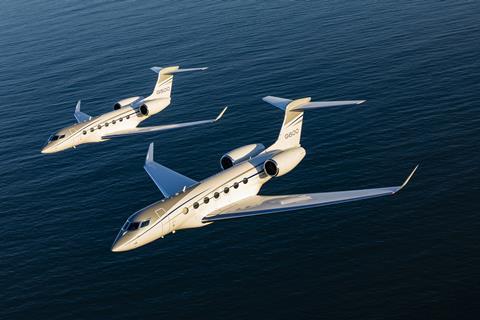 "Demand in the quarter was not as super heated as [in] prior quarters," Novakovic says during General Dynamics' third-quarter earnings call. "We've had a fair number of supply challenges on the aerospace side."
Despite those concerns, however, Novakovic describes the business jet market as healthy, and Gulfstream as flush with orders.
General Dynamics' aerospace business turned a $312 million third-quarter operating profit, up 19% year on year. It generated $2.3 billion in third-quarter revenue, a 14% bump from the same period of 2021. The aerospace division includes Savannah-based Gulfstream and Swiss business aviation services company Jet Aviation.
Gulfstream delivered 35 aircraft in the third quarter, and 82 in the first nine months of 2022. It expects to deliver another 40 or 41 jets in the final three months of the year, Novakovic says.
Notably, General Dynamics ended September with an aerospace backlog valued at $19.1 billion, up a whopping $4.4 billion – 30% – from $14.7 billion one year earlier.
But that backlog growth has recently slowed, inching up just 1% in the third quarter after a 7% bump in the second. The slowdown comes as other business jet manufacturers and industry analysts have reported that demand has eased following a 2021 frenzy.
"Only time will tell about the macroeconomic impact, but we continue to see strong interest in Gulfstream aircraft and services," Novakovic says.