Gulfstream completed the first flight of its in-development G800 ultra-long range business jet on 28 June, marking the start of a flight-test programme that seems likely to last more than one year.
The test aircraft took off from Savannah/Hilton Head International airport in Georgia at about 09:00 local time. It flew for about 2h before landing back at Savannah, the company says.
Gulfstream has disclosed few other details about the maiden sortie of what stands to be among the world's longest-range business jets.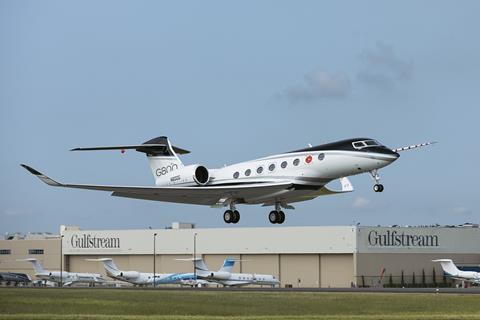 In October 2021, the Savannah-based company revealed its development of the G800, which shares technology and airframe features with its sister ship, the G700.
The G800's first flight kicks off a flight-test programme that will run alongside that of the slightly larger G700. Twin Rolls-Royce Pearl turbofans, rated at 8,250lb (81.2kN) of thrust, power both types.
For the maiden flight, Gulfstream says the G800's Pearls burned a fuel mixture that included sustainable aviation fuel, which is typically biofuel.
Gulfstream markets the G800 as a 19-passenger jet that can fly 8,000nm (14,816km) when cruising at a fuel-saving speed of Mach 0.85. At M0.90, the G800 will have 7,000nm of range. The type has maximum speed of M0.925, Gulfstream says.
Initially, Gulfstream aimed to deliver the first G700 before the end of 2022, followed by that of the first G800 in 2023.
But in April, the airframer disclosed delays to both programmes due to what it described as heightened certification requirements.
At the time, Phebe Novakovic, chief executive of Gulfstream parent General Dynamics, said the G700's timeline had been pushed back three to six months, meaning its certification might come in mid-2023.
She added that Gulfstream now expected to deliver the first G800 six to nine months after that, meaning the milestone could slip into 2024.
The delay reflects a requirement that Gulfstream engineers complete a "a line-by-line examination of the plane's software", Novakovic said. She added, "The level of effort is considerable".
Gulfstream is using three G800s for the type's flight-test programme, though one is assigned to cabin testing. While it has seven G700s performing flight tests, the G800 programme requires fewer aircraft due to similarities between the types, Gulfstream senior vice-president of innovation, engineering and flight Vicki Britt told FlightGlobal in March.
The G700 and G800 share a cockpit built around Honeywell's Symmetry Flight Deck avionics. An enhanced flight-vision system provides pilots with infrared images of the outside world, and a synthetic vision system shows computer-generated images.
The G800 has dual head-up displays, which can present pilots with combined vision – meaning a meshing of infrared and synthetic images into a single view, according to Gulfstream.
Gulfstream is bringing the G800 to market amid a period of unprecedented demand for private aircraft. Industry executives have attributed strong orders partly to the Covid-19 pandemic, which they say led many people to switch from commercial to private aviation.
"We are seeing great interest in the G800, and this first flight brings us even closer to delivering a Gulfstream for every mission," says Gulfstream president Mark Burns.