Honda Aircraft's HondaJet Elite II – a recently unveiled longer-range variant of the light jet – has received type certification from the US Federal Aviation Administration.
The Greensboro, North Carolina-based manufacturer disclosed the approval on 8 November but says the FAA's certification came on 2 November.
The FAA did not immediately respond to a request for confirmation from FlightGlobal.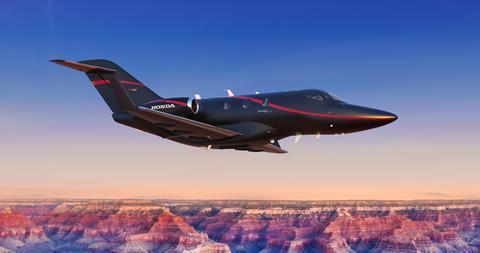 Honda Aircraft only revealed the updated Elite II variant of the HA-420 light jet on 17 October during the NBAA business jet convention in Orlando. The Elite II builds on the previous-generation HA-420 Elite S, which the company rolled out in 2021.
Honda Aircraft gave the Elite II upgraded avionics, software and mechanical and electrical systems. But most notably it increased the type's allowable weight, giving it more range.
The Elite II's maximum take-off weight comes in at 5,035kg (11,100lb), about 200lb more than that of the Elite S. Thanks to increased fuel capacity, the Elite II has maximum range of 1,547nm (2,865km) with four people aboard – 110nm more than the Elite S.
HondaJets can carry up to seven passengers and are powered by twin, over-wing-mounted GE Honda Aero Engines HF-120s, each delivering about 2,050lb (9.1kN) of thrust. It can cruise at 422kt (782km/h) and as high as 43,000ft.
Honda Aircraft says more updates are scheduled for the Elite II in 2023, including the addition of auto-land and auto-throttle systems.