Honda Aircraft has renamed its in-development light jet Echelon and disclosed new production and timeline details about the aircraft, formerly known as the 2600.
"The HondaJet Echelon sets a new paradigm by offering a mid-sized jet experience in the light-jet category," said Honda Aircraft, detailing the new branding ahead of the NBAA show on 16 October.
"The name signifies the company's visionary path for the next-generation business jet, elevating efficiency to new heights while also delivering premium comfort and convenience."
Greensboro, North Carolina-based Honda Aircraft originally revealed the the 2600 development programme at the NBAA event in 2021.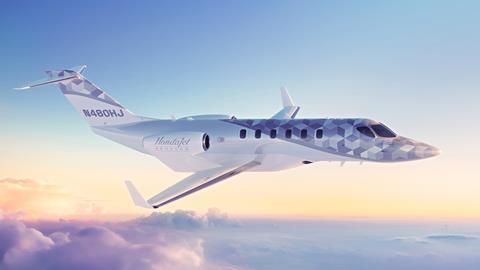 Honda Aircraft says it expects the Echelon will take flight for the first time in 2026, two years before its anticipated 2028 certification.
"The HondaJet Echelon was born to create a new category that transcends the travel experience on conventional light jets," says the company's chief executive Hideto Yamasaki.
He has described the clean-sheet Echelon a natural evolution for Honda Aircraft, which currently only produces the HA-420 HondaJet very light jet,
The Echelon will move Honda Aircraft one step up the size range, providing it with it a competitor to established light jets like Embraer's Phenom 300 and Cessna's Citation CJ4 and Citation Latitude.
Powered by twin Williams International FJ44-4C engines, the Echelon is to carry up to 10 passengers, cruise at 450kt (833km/h) and have 2,625nm (4,862km) of range with five people aboard.
That will make it the "first single-pilot light jet capable of nonstop transcontinental flight across the United States", says the airframer.
"The design of the HondaJet Echelon incorporates electrification and automation of its systems, leading towards augmented pilot capabilities, reduced workload and enhanced safety," the company adds.
Detailed design work is "well under way" and the company aims by summer 2024 to complete the Echelon's aircraft-level critical design review process.
It has also installed a rig for testing the aircraft's structure, has powered up an "advanced systems integration test facility" for the Echelon in Greensboro, and has started fabricating some aircraft components.
Honda Aircraft says it intends to produce Echelon within the footprint of its existing facility in Greensboro, where it already builds the HA-420.
Though the Echelon will not have a clean-sheet engine – it will use a variant of the same FJ44 turbofan that powers Citation CJ-series jets – Honda Aircraft says the jet's efficiency will "outperform conventional light jets on typical missions by up to 20%". It does not disclose details about how the jet might hit that efficiency target, however.
While development of the jet was first revealed in 2021, Honda Aircraft waited until June this year to officially launch the programme.
Programme partners include Spirit AeroSystems and Aernnova, which will manufacturer the Echelon's fuselage and aerostructures, respectively. Garmin will supply its G3000 avionics suite.
Honda Aircraft is showcasing a mock-up of Echelon at this year's NBAA show.