Honda Aircraft turned heads as the NBAA show opened by unveiling enhancements to its HA-420 HondaJet, with the Elite II variant gaining more range, a newly designed spoiler, and several cabin upgrades.
In addition, it plans to bring new automated cockpit technologies to the HondaJet in 2023, including auto-throttle and auto-land capabilities, the North Carolina-based airframer said on 17 October.
"The HondaJet Elite II is the fastest, highest and furthest-flying aircraft in its class, achieving a whole new level of performance that redefines what it means to be a very light jet," the company says.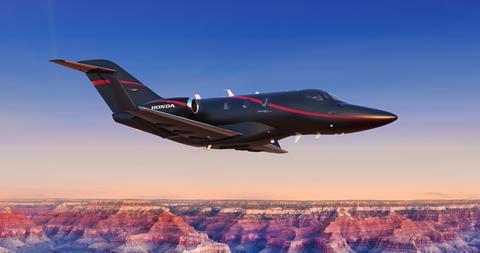 Honda Aircraft has boosted the fuel capacity of the Elite II, with maximum take-off weight (MTOW) also rising to 5,035kg (11,100lb), from 4,940kg on the previous-generation Elite S, which was revealed in 2021.
The changes extend the type's range to 1,547nm (2,865km) with four people aboard – a 110nm increase over the Elite S.
HondaJets can carry up to seven passengers and are powered by twin overwing GE Honda Aero Engines HF-120s, each delivering about 2,050lb (9.1kN) of thrust. It can cruise at 422kt (782km/h) and reach altitudes of 43,000ft.
Other updates for the Elite II include new ground spoilers to accommodate the jet's increased weight, "optimising take-off and landing field performance", the company says.
"The HondaJet Elite II once again pushes the boundaries of its category on all fronts of performance, comfort and style," says Honda Aircraft chief executive Hideto Yamasaki.
Additionally, the Elite II will be offered with two new cabin designs, complete with updated materials and colours.
In 2023, Honda Aircraft intends to roll out two new avionics capabilities for the HondaJet's Garmin G3000-based cockpit.
In the first half of 2023, Elite IIs will gain an auto throttle, followed by an emergency autoland system, to be offered by year-end, which will "autonomously control and land the aircraft without human intervention" in case of pilot incapacitation.
The company is also offering the type with a "stabilised approach" feature, providing pilots "with aural and visual alerts" to enhance landing safety.
"This direction encapsulates the continuous effort to improve the HondaJet through automation, augmentation and situational awareness technologies," Honda Aircraft says.