Honda Aircraft has launched a used-jet sales programme under which it will sell inspected, pre-owned HA-420 HondaJets.
The North Carolina-based manufacturer's new "Certified Pre-Owned Programme" is similar to a used-aircraft sales business launched in 2021 by Bombardier.
The move reflects Honda Aircraft's interest in tapping the high-demand market for its super-light jets, the company says on 29 June.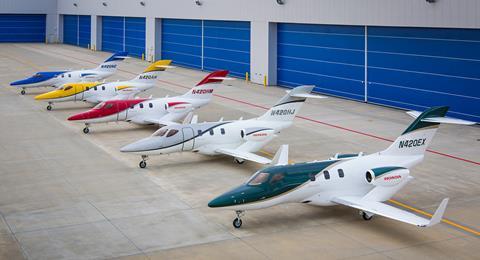 Aircraft sold through the programme will undergo what Honda Aircraft calls "rigorous inspection and expert maintenance processes", including a "208-point standard inspection conducted by Honda-trained technicians".
"Additionally, all aircraft qualified for the… programme will be upgraded to the highest performance level available for each model, based on applicable service bulletins," it adds.
Honda Aircraft has secured a respectable niche in the business-jet market with its seven-passenger light jet HA-420, which received certification in 2015. Some 230 of those are flying globally, and Honda Aircraft is now developing a larger sibling called the 2600, which is to carry nine or 10 passengers and enter service in 2028.
"As demand for the HondaJet continues to rise, pre-owned aircraft have become an increasingly important entry point into the HondaJet community," says Honda Aircraft chief commercial officer Amod Kelkar.
The used-business-jet market boomed during the pandemic, driven by factors including low interest rates, easy access to capital and pandemic-related rules that made travel by commercial airline less appealing, industry analysts have said. The market's growth has since slowed.
Bombardier, which does not compete directly with HondaJet, launched its own used-jet sales programme in 2021, selling Learjet, Challengers and Global jets.