Honda Aircraft's new chief executive Hideto Yamasaki arrives at NBAA in charge of a company he describes as poised to begin a second phase of expansion, one likely to be spearheaded by the development of a new and larger business jet.
Yamasaki joins a business which has spent 20 years carving itself a respectable niche in the ultra-competitive business aviation market.
During those first two decades, Greensboro, North Carolina-based Honda Aircraft developed, certificated and brought to market its HA-420 HondaJet – all under the leadership of its visionary former CEO Michimasa Fujino, an engineer by training.
Things changed this year when Fujino retired, replaced in April by longtime Honda executive Yamasaki.
Now, backed by decades of business and sales experience, Yamasaki aims to turn around the company's finances and drive development of the conceptual 2600 HondaJet, which is to replace the HA-420.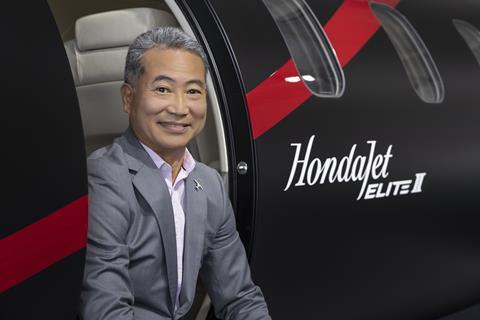 "I'm concentrating on the 2600," Yamasaki tells FlightGlobal "We are currently moving into the next phase of this company."
Fujino was the father of Honda Aircraft and its six-passenger HA-420. He envisioned the aircraft's design – with its distinctive overwing engines – in 1997, then guided Japanese-owned Honda Aircraft through the jet's development.
The aircraft first flew in 2003, but the programme struggled to reach the finish line: development dragged on for 12 years, with Federal Aviation Administration certification obtained in 2015. It is powered by twin 2,050lb (9.1kN)-thrust HF-120 engines made by GE Honda Aero Engines, a joint venture.
Fujino "created this HondaJet and the Honda brand in the aviation industry", Yamasaki says. "This company made it through alone, not with partners".
Some 225 HA-420s are now flying, and although Honda Aircraft declines to specify the number of aircraft in its backlog, the figure equates to about two years of production, it says.
In recent years, output stood at two to three jets monthly, though this has recently slowed amid the same supply-chain struggles that have hamstrung other airframers.
Honda Aircraft has repeatedly rolled out updates to the HA-420, including its Elite S variant in 2021 and, now, the Elite II, revealed at NBAA. The latest iteration has range of 1,547nm (2,865km) with four people aboard – 110nm more than the Elite S. Honda Aircraft plans to further modernise the jet with a series of avionics updates in 2023.
Despite technical successes, the airframer's financial results have lagged; Honda's aircraft and aircraft engine business lost Y3.8 billion ($25.5 million) in the company's most recent fiscal quarter, which ended in June.
But Yamasaki aims to change that. The Japan-born executive joined Honda in 1985, spending most of his career working in various countries for it automotive division. He has led Honda's operations in Ukraine and Turkey and was general manager, and then senior vice-president of sales, for its Americas division.
"I was raised… [on] the business side," Yamasaki says. "I'm a sales-oriented guy."
While Fujino brought HondaJet to its present position, Yamasaki says the company now needs a leader with strong business experience – someone to fix its finances and guide it into a future that lies not with the HA-420, but with its next jet, the HondaJet 2600.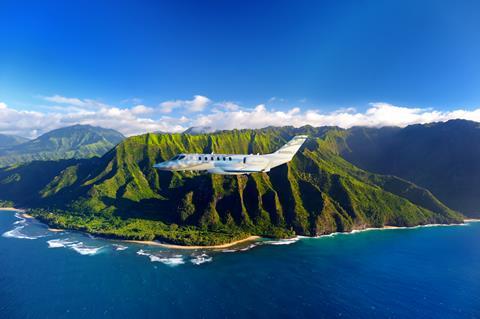 "We have to have another story. This 2600 will be our next story," Yamasaki says. Honda Aircraft's latest HA-420 updates might be "the ending story" for that type.
Honda Aircraft unveiled the 2600 concept in Las Vegas at last year's NBAA event. The aircraft will be capable of carrying 11 people – including up to two pilots – cruise at 450kt (834km/h) and sufficient range to fly across the continental USA.
The company describes the aircraft as the "first-ever transcontinental light jet" and the "longest-range single-pilot business aircraft".
Those capabilities would place the 2600 at the upper end of the light-jet segment, with capabilities knocking on the door of the midsize category, says Yamasaki.
It would seemingly compete with types like Embraer's Phenom 300E (carrying 10 passengers over 2,010nm), Cessna's Citation CJ4 (10 passengers/2,165nm) and Cessna's Citation Latitude (nine passengers/2,700nm). Like the HA-420, the 2600 will have twin overwing engines and be produced at the company's Greensboro site.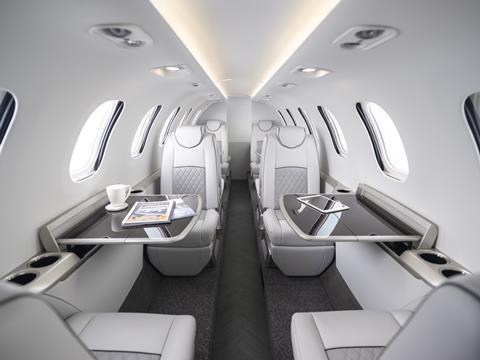 Honda Aircraft has not yet launched a formal 2600 development programme, nor specified a timeline for the jet's arrival. But it is talking with suppliers about the project, and Yamasaki says its ambitions in the space are genuine.
"We are quite serious. We just cannot announce it today," he says. "This concept – the 2600 – is to be [an] extended version of the 420."
Yamasaki says Honda Aircraft has a sufficiently large customer base to support development of the successor and that they have been asking for a longer-range jet.
He also says his team's experience developing the HA-420 leaves it well positioned to think bigger: "We have learned through the [HA-420] process of development and certification. We want to fully utilise that experience."
Crucially, Honda Aircraft has sufficient financial backing from its parent for the programme.
Yamasaki describes himself as a skilled manager, saying he has surrounded himself with a strong team of sales, finance and strategic leaders.
"I'm delegating many of the things for them, which hasn't been the kind of a culture" previously, he says. "I'm not a superman."