Honeywell Aerospace has formed a new business unit designed to holistically support unmanned aerial systems and urban air mobility (UAM) projects.
The new unit at the Phoenix-based subsidiary of the industrial giant, including all the resources within the company from which it draws, will encompass several hundred people. It is concieved as a one-stop shop for UAM manufacturers and start-ups for when they are looking for avionics, propulsion systems, technology, software, certification and services expertise.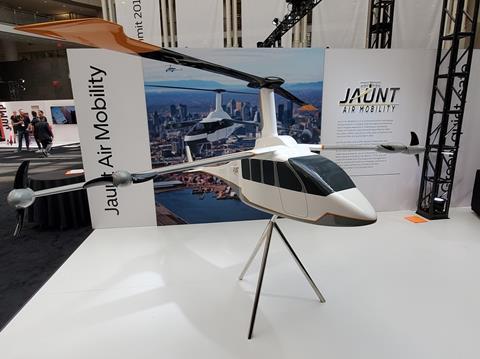 The company estimates that by 2030 the UAM and drone cargo vehicle market will be worth about $120 billion per year globally, divided equally between passenger and cargo drone services. About 20% of that market is addressable by the company's offerings, says Stephane Fymat, vice-president and general manager of the new business, on 15 June. "That's a pretty big opportunity for us."
"We are doubling down on our investment and focus," Fymat adds. "We will be able to harness the power of our engineering resources and know-how to transform urban air taxis, drone delivery of parcels and all forms of autonomous flight from a future vision into an everyday reality."
The company does not intend to go into aircraft design to compete with the hundreds of firms already in this space, but rather aims to contribute "the brain and the muscles" of the aircraft, and act as the systems integrator for these technologies. The new unit will be developing technologies like "fly-by-wire" autopilot units, detect-and aviod algorithms and artificial intelligence software to track landing zones.
A year ago, Honeywell announced a partnership with UK electric vertical take-off and landing (eVTOL) aircraft developer Vertical Aerospace to address what it called "the technical, regulatory and business challenges of the emerging urban air mobility (UAM) segment".
In addition to Vertical Aerospace, Honeywell has said it is currently collaborating with Pipistrel, Volocopter and Jaunt Air Mobility, with more to be named in the future. "Watch this space," Fymat says.