Honeywell has upped its 10-year business jet delivery forecast by 1,100 units, reflecting a market buoyed by demand for travel by private aircraft.
In Honeywell's 2022 Global Business Aviation Outlook, released on 16 October, it predicts aircraft manufacturers will deliver 8,500 new business jets, worth $274 billion, between 2023 and 2032.
Those figures are a rise of about 15% over Honeywell's forecast last year, which estimated 7,400 deliveries worth $238 billion over the 2022-2031 period.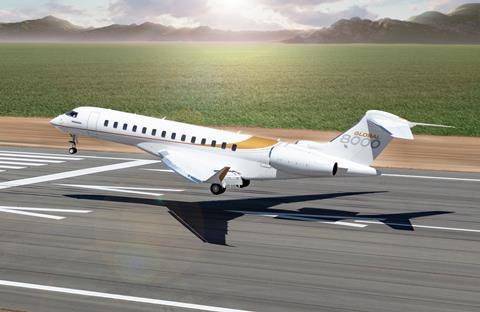 "There was pent-up demand from Covid – probably the industry was expecting a hit that didn't materialise, and now these supply chains have to catch up," says Honeywell strategic planning manager Javier Jimenez-Serrano.
Manufacturers across the aviation industry have been scrambling to shore up supply chains that stumbled during a pandemic-recovery characterised by tattered logistics networks, worker shortages and rampant inflation.
Honeywell still expects airframers will deliver about 700 new business jets in 2022, up from 611 in 2021, excluding single-engined and airliner-based types, according to data from the General Aviation Manufacturers Association. But the aerospace giant predicts delivery figures will jump 17% year on year in 2023 and increase by an average of 2% annually over the next decade.
Over the next five years, operators expect to acquire new jets in numbers equivalent to 17% of their current fleets, up three percentage points from the 2021 findings, the report says. Those "purchase plans" are now "on par with 2019 levels".
"The business aviation sector is expected to recover to 2019 delivery and expenditure levels by 2023, which is much sooner than previously anticipated," says Heath Patrick, president of Honeywell's aftermarket business in the Americas.
"The business aviation industry is greatly benefiting from a wave of first-time users and buyers, due in part to changing habits brought on by the Covid-19 pandemic," Patrick adds.
Those "first-time users" include customers driven to private travel by airline service cuts during the pandemic, and concerns about contracting the virus in crowded commercial airports.
Honeywell's market optimism partly reflects its finding that 74% of new users plan to travel as much by private aircraft in 2023 as they have in 2022.
That demand pushed business aviation flight activity during several weeks this year to levels exceeding historic highs in 2007, says Jimenez-Serrano. Flight activity declined after 2007 during the recession which followed, and due to social pressure, he adds.
Honeywell predicts full-year 2023 flight activity will finally exceed the 2007 benchmark.
It also expects continued strength from the used business jet market, with operators intending to acquire used aircraft over five years equivalent to 28% of their current used fleets.
"High demand for used jets will keep pressuring the already low inventory of jets available for sale," Honeywell says.
Honeywell's 2021 and 2022 surveys included questions about sustainability, though the 2022 outlook is the first to report those metrics. Half of aircraft operators surveyed say they have taken steps to reduce carbon emissions – up 30 percentage points on last year's survey. Those steps include flying at slower speeds and "increasing passenger capacity", Honeywell says.