They may be known as rich men's toys, but private jets are now increasingly being used to get cancer sufferers to vital medical assistance, thanks to one determined US charity, the Corporate Angel Network
Business aircraft may be derided by those who see little merit but great indulgence in them – terms like "admiral's barge" and "rich man's toy" are commonly heard, and perhaps represent the sector's position in the popular imagination. But rarely mentioned is the invaluable support the business aircraft industry provides to charitable organisations that need the convenience, flexibility, privacy and security non-scheduled transport can offer.
One major beneficiary of the sector's benevolence is the Corporate Angel Network (CAN), a US charity founded in 1981 by three friends who had been affected by cancer. Leonard Greene, president of engineering company Safe Flight Instrument, lost his wife to cancer, while Priscilla Blum and Jay Weinberg both battled the disease.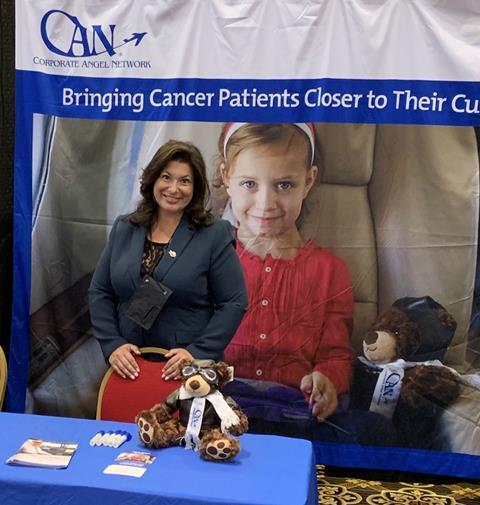 "As cancer survivors, Blum and Weinberg knew how expensive and gruelling transportation was for patients who needed to fly long distances for specialised treatment," says CAN executive director Gina Russo.
They "shared the dream" of using empty seats on corporate aircraft to transport cancer patients to treatment centres across the USA, Russo says, and developed the idea of asking companies to accept these patients as "guest passengers".
Greene donated $100,000 from his own charitable foundation to fund the new organisation and enlisted the help of his aviation friends. His own corporate Beechcraft King Air 200 was the first participating company aircraft, and on 22 December 1981 he piloted the first CAN flight – bringing a young patient home to Detroit in time for Christmas after treatment in New York City.
Corporations across the USA were asked to support the initiative by donating empty seats on their jets. Today, 500 firms, including nearly half of the Fortune 100, allow these patients to fly on their aircraft together with one companion – or two, in the case of a child – in otherwise empty seats.
PUTTING IN THE HOURS
Fractional ownership provider NetJets has been a "valued partner" since 1997. The relationship recently expanded to allow CAN access to NetJets' ferry flights, which carried dozens of patients in 2019. "Additionally, NetJets now matches all donated hours up to 50h per year," says Russo. "These help to transport patients, especially those who are immune compromised, when a scheduled corporate flight is not available."
The CAN service is free, and there are no limits on the number of trips one patient can take.
The importance of the role played by business aircraft in general and CAN in particular for these cancer patients cannot be overstated. "A major hardship for someone who has just received a cancer diagnosis is the overwhelming and time-sensitive task of figuring out how to get to the best hospital or healthcare provider for specialist treatment, or a clinical trial that can add years to their life," says Russo.
Transport can be particularly hard for cancer sufferers who live in more rural areas, far away from the major cancer centres, she adds. It is also difficult for those patients with "compromised immune systems" who cannot fly commercially.
Russo says "cutting-edge cancer experts" are located in only a handful of hospitals across the USA. "By offering private aircraft transport free of charge to these specialist clinics, we can help ease the physical, emotional and financial burden for many patients," she says.
CAN destinations have included New York's Memorial Sloan Kettering Cancer Center and the University of Texas's MD Anderson Cancer Center in Houston – described by Russo "as the top two cancer centres for adults" – as well as Cincinnati Children's Hospital, the Duke Institute for Brain Sciences in Durham, North Carolina, Johns Hopkins in Baltimore and the Mayo Clinic in Rochester, Minnesota. One patient was delivered to the Fred Hutchinson Cancer Research Center in Seattle for a stem cell transplant.
From its base at New York's Westchester County airport, CAN accesses available corporate aircraft seats using flight-sharing software, whereby companies report their flight schedules. This system allows CAN to match the routes and empty legs of donor aircraft with patient needs. "We can be arranging flights up to the very last minute," Russo says, "particularly when the patient has been called in for an operation with little notice".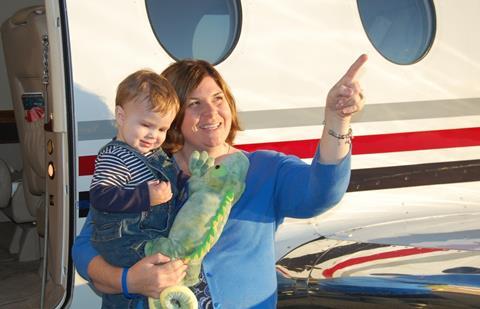 CAN has made the process easy. Patients call to provide the date of their appointment, and the flight co-ordinator takes care of everything else. CAN does require medical verification from a doctor who has seen the patient within the past 30 days, and confirmation that they are going to a treatment centre. Patients must be able to walk up to the steps of an aircraft and not require life support systems or medical assistance on board.
Demand for the service can vary greatly. "We might be a resource for someone who needs to fly once to get a second opinion from a specialist, or to confirm that their current treatment plan is appropriate. Alternatively, we could provide a regular service," Russo says.
As an example she points to a patient who was diagnosed with a very rare eye cancer at the age of two and has been flying with CAN between Ohio and New York for treatment for 22 years.
A business aircraft flight carries an average load of two to three people, so a patient and up to two "care givers" will only double the load, Russo says. "It is fairly common for a patient and their carer to be on the same flight as a company chief executive, if they are heading to the same destination," she adds.
Aircraft used by CAN are restricted to twin-engined types with a pressurised cabin, flown by two pilots.
CAN has transported over 60,000 patients to date, and expects to have fulfilled 3,000 requests by the end of 2019 – its largest annual tally. While this may sound an impressive number, Russo says it falls significantly short of the 5,000 requests CAN receives from cancer patients each year. "I want to say 'yes' to more patients, but we don't have enough availability."
She says more lift is needed to satisfy the growing demand for spaces, but "spreading the message" to owners, operators and corporations about the work CAN does is a challenge.
"Word of mouth, peer pressure and good marketing are making a difference, but there are many, many underutilised corporate aircraft that could be used for a great cause. We just need to keep getting the message out there," Russo says.
EASY TO PARTNER
She stresses that there is neither financial outlay nor inconvenience for CAN partners. Patients are medically cleared to travel and ground transport to and from the aircraft is sourced, funded and supported by CAN. "We just need the seats – that's it," Russo says.
The company is run by a small team of six full-time staff and 30 volunteers. As well as its partner operators, CAN is also dependent on financial donations to help fund the patients' trips door to door.
CAN receives small grants and gifts, but its main fundraising effort is held each year during the National Business Aviation Association Convention and Exhibition – the industry's largest gathering. This year's Fund an Angel event raised $510,000 through sponsorships, donations and auctioned items, says Russo.
"We are a small team, so while we work every day on external outreach, the more advocates we have in the [business aviation] community the better – and the more cancer patients we will be able to help," she says.
Are there plans to expand the CAN network internationally? "The charity would be a great fit in Europe," admits Russo, "but we won't move into this market until we have the USA covered, and that means being able to respond to more than 80% of flight requests