Italy's government has given the go-ahead for the expanded team of administrators running Piaggio Aerospace to make a third attempt at selling the aircraft manufacturer and maintenance provider.
Piaggio has been in extraordinary receivership – an Italian industrial restructuring process – since December 2018, when previous owner Mubadala, the Abu Dhabi sovereign wealth fund, pulled out.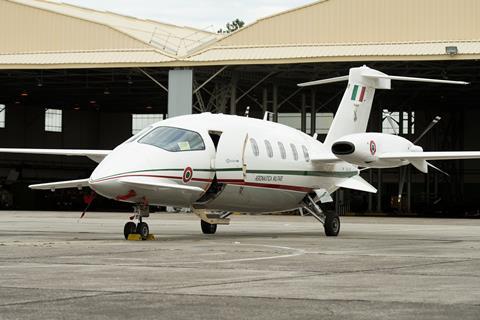 Two previous attempts to sell the airframer begun in 2019 and 2022 ended in failure after no agreement with buyers could be reached.
But the Italian trade ministry has now green-lit a third sale attempt, with details of the process to be published on 10 May. It has also extended the period in which the company can remain in receivership until 13 May 2024.
Prospective bidders have until 12 June to signal their interest, after which eligible parties will be granted a 30-day period of due diligence before they are required to submit binding offers.
Vincenzo Nicastro was appointed as commissioner to oversee the firm's affairs when it entered receivership but he has recently been joined at the head of the business by Carmelo Cosentino and Davide Rossetti.
"Our objective is identifying the best industrial solution in the shortest possible time, finding a prospective buyer – even at the international level – who can guarantee operational continuity, maintenance of employment, specific know-how and financial stability, as well as recognise the company's fair value," the trio state.
Piaggio Aerospace, located in Villanova d'Albenga in northwest Italy, has a backlog of approximately €556 million ($609 million) mainly through contracts with Italy's armed forces.
Even if a sale agreement can be reached, the buyer will still need sign-off from the Italian government for the deal.
Although Piaggio is best known for its P180 twin-turboprop, it also has a sizeable maintenance, repair and overhaul operation.

Dominic Perry is deputy editor of Flight International but also contributes extensively to flightglobal.com. Although specialising in the coverage of the helicopter industry, he has written on most topics in aerospace – be they commercial, defence or business aviation. In addition, there has been an increasing focus on the decarbonisation of the industry and zero-emission flight initiatives.