Joby Aviation, a California-based aerospace company building small electric take-off and landing (eVTOL) vehicles for potential air taxi service, says it has raised $590 million in Series C funding led by Toyota Motor Corporation.
The announcement comes just days after Toyota's competitor, Korean car company Hyundai, signed an agreement with Uber to manufacture its eVTOL air taxi aircraft.
Joby's aircraft, a piloted five-seat all-electric vehicle capable vertical takeoff and landing, can travel at speeds of 174kt (322 km/h) and fly 130nm (241km) on a single charge, the Santa Cruz, Califorina-based company says in a statement on 15 January. Joby claims the aircraft is "100 times quieter than conventional aircraft during takeoff and landing, and near-silent when flying overhead."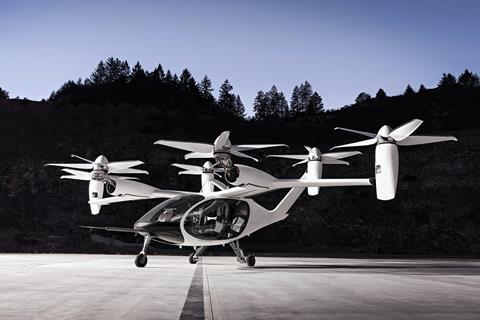 "We are building a new system for transportation to transform your daily life, at greater safety and, in time, at a similar cost to driving," says JoeBen Bevirt, Joby's founder and chief executive. "This collaboration with Toyota represents an unprecedented commitment of money and resources for us and this new industry from one of the world's leading automakers".
Toyota's president and chief executive Akio Toyoda adds, "Air transportation has been a long-term goal for Toyota, and while we continue our work in the automobile business, this agreement sets our sights to the sky."
The carmaker says its primary interest is providing mobility for all by leveraging emerging technologies. In addition to investing $394 million in Joby, Toyota will "share its expertise in manufacturing, quality and cost controls for the development and production of Joby Aviation's breakthrough eVTOL aircraft."
Shigeki Tomoyama, an executive vice president of Toyota, will join Joby's board of directors as part of the deal.
The companies say they will release further details about the prototype aircraft and production plans at a later date.
Hyundai's S-A1 aircraft, announced just over a week ago, is based on an all-electric aircraft design that Uber had shared previously as an open source concept intended to stimulate conversation in the budding eVTOL industry. As part of the agreement with Uber, Hyundai will build and operate the aircraft, while Uber will provide "airspace support services, connections to ground transportation and customer interfaces", Uber said.
The S-A1 is designed to have a cruising speed up to 157kt, a cruising altitude of 1,000-2,000ft and range up to 52nm. The aircraft will take off and land vertically, transitioning to flight on its wing for cruise mode.
More than 100 companies, including Airbus and Boeing, are working on urban air mobility concepts they hope will alleviate ground-based traffic congestion in the coming decades.