Silicon Valley aviation start-up Kitty Hawk has ended its first aircraft programme, called the "Flyer".
The five-year-old Mountain View, California-based company said on 3 June it is ending the electric vertical take-off and landing (eVTOL) project after building 111 aircraft and training 75 people to fly them. It was the first aircraft design from the company backed by Larry Page, co-founder of Google parent Alphabet.
"Today, we are winding down the Flyer project," Kitty Hawk chief executive Sebastian Thrun and Alex Roetter, president of Flyer, say in a blog post. "We have learned what we needed from it – things like vehicle design and testing, manufacturing aircraft, and most of all, how humans would experience eVTOL."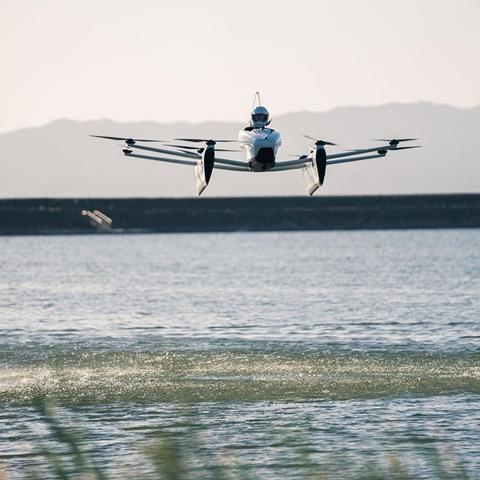 The company says it conducted more than 25,000 successful crewed and uncrewed flights with the fleet of single-seater Flyer aircraft.
Flyer is powered by ten independent lift fans and designed to fly 3-10ft over water. With Flyer, Kitty Hawk says it proved it could build "aircraft that are easier to fly than to ride a bicycle".
Kitty Hawk followed the Flyer with the larger and more-powerful eVTOL projects Cora, and Heaviside in 2018 and 2019, respectively.
Last June, Kitty Hawk and Boeing announced an urban air mobility strategic partnership centred on the Cora design, a semi-autonomous two-seat aircraft, now renamed Wisk.
In October, it introduced its one-seater eVTOL concept Heaviside, an eight-rotor electric-powered aircraft that has a range of about 87nm (161km) and can fly over cities at speeds of up to 156kt (290km/h). In their blog post, Thrun and Roetter say that, with the closing of Flyer, they are "doubling down" on Heaviside.
Kitty Hawk is one of an ever-increasing number of companies working on aircraft designs for urban air mobility projects of the future. Other firms looking to make air taxi service mainstream include Lilium, Volocopter and Terrafugia. Ride-hailing company Uber and commercial aircraft manufacturers Airbus and Embraer are also in on the act.