German start-up Lilium has been bolstered by further funding, netting $35 million from Scottish investment firm Ballie Gifford, as it eyes a possible resumption of flight testing of its Lilium Jet later in the summer.
Although the first demonstrator of the all-electric aircraft was destroyed by a battery fire in February, the Oberpfaffenhofen-based firm believes it now fully understands the cause of the blaze and is confident there is no underlying design fault.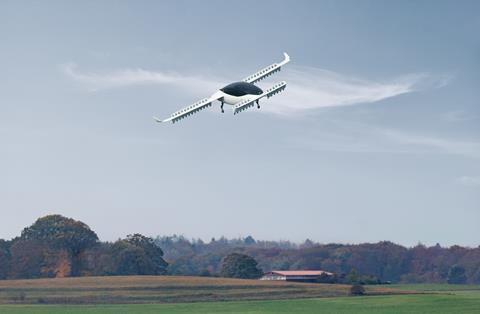 Minor improvements have been incorporated into the second demonstrator aircraft, says Lilium, although it stresses there are no "fundamental" changes.
Chief executive Daniel Wiegand says the enhancements are mostly focused on the Lilium Jet's powertrain rather than its aerodynamics; "ultimately the flight physics are the same", he says.
Lilium's design features 36 tilting fans spread across two sets of wings: 12 at the front and 24 at the rear.
A restart of flight-test activity hinges on the relaxation of social-distancing measures in place due the coronavirus pandemic. The company has switched to home working for the majority of its 450 employees, with a "core team" of 50 engineering staff on site.
Wiegand acknowledges a "little bit" of an impact from the Covid-19 restrictions, but stresses that "we are fully committed to our [operational] launch in 2025. There is no change – we are fully on track with that target."
That schedule has been bolstered by the recent publication by the European Union Aviation Safety Agency of its means of compliance for developers of electric vertical take-off and landing (eVTOL) aircraft under its new SC-VTOL certification category. Discussions are also ongoing with the US regulator, says Wiegand.
"We now are in an excellent position having certainty against what we have designed. We now can make full-speed progress with the design of the serial aircraft," he says.
Negotiations are also continuing with potential launch cities, although Wiegand declines to reveal their identities "for obvious reasons".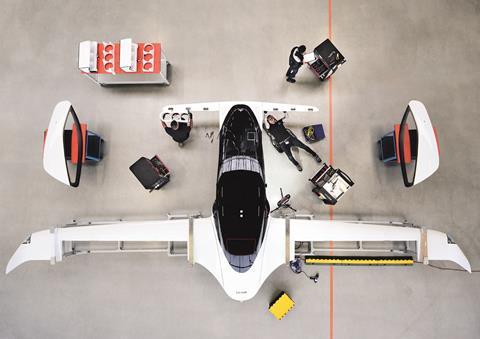 Since last summer, Lilium has been working to a "classical aerospace development" methodology, says Wiegand. Although he declines to detail whether the aircraft has passed the preliminary or critical design review milestones, he says it has completed around one-third of the work required for certification.
That change has been seen through the entire business, which Wiegand now describes as an "aerospace technology company".
"We are transitioning away from that start-up style of working where you fail fast and move on," he says, noting the tight regulatory requirements of the aerospace industry which require "full traceability" and "qualified ways of working".
Despite forecasts that funding for eVTOL or urban air mobility projects is likely to dry up in the wider recessionary environment, Lilium continues to attract investment. The $35 million from Ballie Gifford – a firm whose track record includes financing start-ups including Amazon, SpaceX and Spotify – takes total investment to more than $375 million.
"I think we are very fortunate to obtain such funding and especially from such a credible investor," says Wiegand. While he acknowledges that the wider economic situation is difficult, the backing "shows there is big confidence, both in the physical product, but also in the business case".
In fact, he is at pains to differentiate its aircraft from other eVTOL designs. Rather than short intra-city hops, the Lilium Jet, with its 162kt (300km/h) top speed and 162nm (300km) range, is being pitched against ground transport modes such as high-speed rail.
"We don't believe in flying people less than 15km because the customer value proposition for time saving is not there.
"We are completely focused on regional air mobility – it is very different to the usual discussion about urban air mobility flights," says Wiegand.
Transport with the Lilium Jet offers the same benefits to the customer as a "high-speed train – but we can deliver this connectivity at less than 2% of the infrastructure cost," he claims.
Wiegand is also considering the prospects for the business over the longer term: "By the time we are entering the market hopefully the crisis is gone – or at least much less severe."
While he hopes the "colourful" nature of the segment will "stay for longer", he recognises that consolidation is likely: "We have to be realistic that those 200 companies in the space will not all make it to certification."